Wisteria sinensis (Sims) Sweet
Fully-hardy, vigorous, twining climber with pinnate leaves, composed of up to 13 leaflets, and dense, pendant racemes, to 30cm, of pea-like, fragrant, lilac-blue to white flowers, in spring and summer. To 9m or more. [RHSE, Hilliers', Hortus].
Horticultural & Botanical History
'This is a most beautiful climbing plant, from China: it was brought home about 1816 by Capt. Welbank. […] It is deciduous and flourishes exceedingly planted in the full ground of a conservatory. Its magnificent flowers are produced in rich abundance during the early part of the spring.' [LBC no.773/1823]. 'The specimen of this beautiful climber, from which our drawing was taken, was communicated through our friend, Alexander M'Leay, Esq. from the collection of Charles Hampden Turner, Esq. at Rooksnest-Park, near Godstone in Surry. The plant was brought from China three years ago by Captain Welbank; and we are informed by his gardener, Mr. D. M'Leod, was at first kept in the peach-house, heated to 84 degrees, where it was nearly destroyed by the red spider. On the heat being reduced to below 60 degrees, the plant was more vigorous, but still weakly. Early in August the gardener removed it from the wall of the peach-house, set it in a pot of vegetable mould, and tied the branches to a stick. In the month of September it lost all its leaves. It was kept all the winter on the floor, in the coldest and darkest part of the greenhouse; in which situation the mould in the pot was frozen three different times during the winter. In the beginning of March it shewed flower-buds, and the plant was removed to a more favourable situation in the house; but no leaves were put forth till the last week in March, when the flowers were nearly expanded. The gardener has propagated it both by layers and cuttings, and proposes to try how far it will bear the cold of our climate.' [BM t.2083/1819]. BR f.650/1822. MB p.127/1840. IH p.157, vol.5/1858.
History at Camden Park
Listed in all published catalogues [T.524/1843]. Glycine sinensis was ticked in a copy of the Horticultural Register, August 1831. Although this periodical originally belonged to James Bowman, it is likely that it was grown by Macarthur earlier than 1843. Plants were presented to the Sydney Botanic Garden on October 24th 1846. Well established in the gardens, in full flower and creating a beautiful effect on the Open House weekend at the end of September.
Notes
Published Dec 23, 2009 - 01:02 PM | Last updated Jul 21, 2010 - 02:38 PM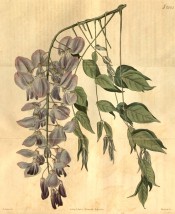 Family
Fabaceae
Category
Region of origin

China

Synonyms

Wisteria chinensis DC.
Wisteria consequana Loud. ex G.Don
Glycine sinensis Sims

Common Name

Chinese wisteria

Name in the Camden Park Record

Glycine sinensis (Wistaria consequana)

Confidence level
high