Vinca minor L.
Fully hardy, prostrate, mat-forming evergreen shrub with long, rooting, trailing shoots, ovate to lance-shaped leaves, to 5cm long, and reddish-purple, violet-blue or white flowers from spring to autumn. To 20cm. [RHSE, Hilliers', Hortus].
Horticultural & Botanical History
Native of Western Europe and an ancient garden plant. Described by John Parkinson in Paradisi in Sole Paradisus Terrestris (1629) as the Smaller Perwinkle; 'The smaller Perwinkle which not only groweth wilde in many places, but is most usuall in our gardens, hath divers creeping branches, trayling or running upon the ground, shooting out small fibres at the joints, as it creepeth, taking thereby hold in the ground, and rooteth in divers places: at the joints of these branches stand two small darke greene shining leaves, somewhat like unto small Baye leaves, but smaller, and at the joints likewise with the leaves, come forth the flowers, one at a joynt, standing upon a tender footstalk, being somewhat long and hollow, parted at the brims, sometimes into foure leaves, and sometimes into five, the most ordinary sort is of a pale or bleake blew colour, but some are pure white, and some of a darke reddish purple colour: the root is in a body of it, little bigger than a rush, bushing in the ground, and creeping with his branches farre about, taking roote in many places, whereby it quickely possesseth a great compasse; and is therefore most usually planted under hedges, or where it may have roome to runne.' Saint-Hilaire pl.289/1830.
History at Camden Park
The only record is a handwritten entry in an 1850 catalogue held at the Mitchell Library and inscribed on the front Wm. Macarthur 23rd Dec. 1854. [ML 635.9m]. This is good evidence that it was grown in the gardens at this time although it didn't appear in the 1857 edition of the catalogues.
Notes
Vinca minor Sm. = V. herbacea Waldst. & Kit., an eastern European species. [RHSD].
Published Jun 03, 2009 - 04:17 PM | Last updated Jul 14, 2010 - 12:27 PM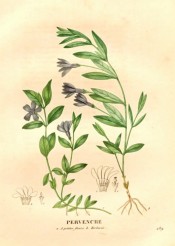 | | |
| --- | --- |
| Family | Apocynaceae |
| Category | |
| Region of origin | Europe, west Asia |
| Synonyms | |
| Common Name | Lesser periwinkle |
| Name in the Camden Park Record | Vinca minor |
| Confidence level | high |