Schinus molle L.
Frost tender, usually broad-headed tree with slender, pendant branches, pinnate leaves, to 30cm long, composed of up to 41 narrow leaflets, and pendant panicles, to 20cm long, of tiny whitish flowers from winter to summer, followed by rose-pink fruit. To 25m. Although ostensibly tender it thrives in the Camden district. [RHSE, Hortus, Hilliers']. The fruits have been eaten and sold as pink peppercorns.
Horticultural & Botanical History
Introduced to Britain in 1597. [JD]. Don. 'This plant, the Molli or Molle of the Peruvians, grows wild, not in Peru only, but also in Mexico, according to authors, where it inhabits dry and sandy places: it is likewise found in Chili, unless the specimens I have received from that country are cultivated plants. If not possessed of much beauty in the flowers, (which, however, are rarely produced in our collections,) the Molle yields to few trees in the gracefulness of its foliage: added to which, its properties and uses are well deserving of our attention. The whole plant abounds in a viscid and resinous oil, which yields a powerfully aromatic and pungent odour, and which some have compared to the scent of Fennel.' [BM t.3339/1834].
History at Camden Park
Only listed in the 1845 and 1850 catalogues. Schinus molle was part of a consignment of plants sent from Kew by John Bidwill in November 1843 [AJCP]. This is the probable source. Quite commonly grown in the area and naturalised locally [FNSW, Beadle]. There are mature specimens of this tree in the Camden Park estate. It could have been introduced to evaluate its potential as a source of mastic under Camden conditions.
Notes
Schinus molle Hort. ex Engl. non L. (1883) = Lithraea aroeirinha Marchand ex Warm., syn. Lithrea molleoides (Vell.) Engl.
Published Mar 17, 2010 - 03:33 PM | Last updated Jul 14, 2010 - 11:25 AM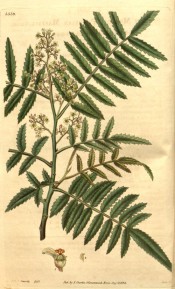 Family
Anacardiaceae
Category
Region of origin

Central and southern America

Synonyms

Schinus molle var. areira (L.) DC.
Schinus areira L.

Common Name

California Pepper tree, Peruvian mastic tree

Name in the Camden Park Record

Schinus molle

Confidence level
high