Rhododendron luteum Sweet
Fully-hardy, medium-sized deciduous shrub with oblong leaves, to 10cm, which turn to rich shades of crimson, purple and orange in autumn. The strongly fragrant, yellow, trumpet-shaped flowers are born in a rounded truss in spring. To 3.5m. [RHSE, Hortus, Hilliers', Millais].
Horticultural & Botanical History
According to Hilliers' Rododendron luteum was introduced to European gardens in 1793, and Millais notes that A. pontica was introduced in 1793 by Anthony Hare and is the yellow parent of all the early Ghent hybrids. The Botanical Repository records that seeds were sent to Lee and Kennedy by Pallas in 1792. [ABR pl.16/1798]. 'The figure and description here given were taken from a plant which flowered by means of artificial heat, in the spring of 1798, at Mr. Watson's, Nurseryman, Islington, and which had been introduced the same year, by Mr. Anthony Hove, of Warsaw. As an hardy ornamental shrub, it bids fair to prove an acquisition truly valuable, its flowers produced in the months of June and July, being highly ornamental as well as fragrant. We have the best authority for regarding this plant as the Chamaerhodendros Pontica of Tourneforte, it agrees with his own specimens in Sir Joseph Bank's Herbarium, it accords also with his description, and figures, more especially of those flowers which are of their natural size; nor have we any doubts of its being the Azalea Pontica of Prof. Pallas, figured in the Flor. Rossica since it corresponds generally with his description, though not in all points with his figure, which bears evident marks of inaccuracy, the stigma, for instance, is represented as trifid. Tourneforte found this plant on the eastern side of the Black Sea, Mr. Hove on the north side near Oczakow, and elsewhere; Professor Pallas on Mount Caucasus. As yet there has been no opportunity of ascertaining the best means of propagating this new denizen, but there is every reason to suppose that it will succeed with the, treatment bestowed on the other Azaleas.' [BM t.433/1799].
A list of recommended hardy azaleas in The Gardeners Chronicle of 1850 included 'Pontica alba', presumably a white-flowered form. The Gardeners Chronicle of 1853 commented: 'of buffs and yellows none surpassed Pontica Globosa and Pontica Princeps'. [Gard. Chron. 1850, 1853]. The Botanical Register figures Azalea pontica var. versicolor, a hybrid bred by Lord Caernarvon at Highclere. [BR f.1559/1833].
History at Camden Park
Received per 'Sovereign' February 1831 [MP A2948] but not listed in the catalogues until 1857, in an addendum [A.4/1857].
Notes
Rhododendron ponticum L., of which Azalea pontica L. is often given as a synonym, is a different species. See Rhododendron ponticum L.
Published Jun 10, 2009 - 03:14 PM | Last updated Sep 09, 2011 - 05:17 PM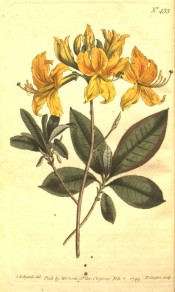 Family
Ericaceae
Category
Region of origin

Caucasus and eastern Europe

Synonyms

Rhododendron flavum G.Don
Azalea pontica L.
Azalea pontica Pall.
Chamaerhodendos pontica Tourn. maxima

Common Name

Yellow Azalea

Name in the Camden Park Record

Azalea Pontica

Confidence level
high