Rhododendron indicum 'Purpurea'
Treated here as a cultivar or hybrid of Rhododendron indicum Sweet. Galle describes 'Purpureum' as a 'Mucronatum' hybrid synonym 'Lilacina', with light reddish-purple flowers with a red blotch, but see notes below as this may be a different plant.
Horticultural & Botanical History
'This elegant plant [Azalea indica purpurea] was introduced about 1819, by Mr. Brookes, from China, where, with many other fine varieties, it is much cultivated.' [LBC no.1461/1828]. John Lindley, writing in the Botanical Register, listed several purple varieties of Azalea indica apart from the double purple Azalea indica purpurea plena. [See Rhododendron indica 'Purpurea Plena']. Early purple. 'Flowers purple, before the leaves. A kind found in Mount Sakanosta.'. Decandrous purple. 'Flowers purple before the leaves. Stamens 10. Found with the last.' Small purple. 'Flowers small, deep purple, the petals and style having a tinge of pink.' Spotted purple. 'Pinkish purple with darker purple spots.' [BR f.811/1824].
For more information on Indica Azaleas see Rhododendron indicum Sweet.
History at Camden Park
Listed in the 1850 and 1857 catalogues [T.105/1850]. Desideratum to Loddiges' Nursery, 6th January 1845 [MP A2933-2 p.28]. This is probably the source.
Notes
The identity of Macarthur's Azalea Indica purpurea is unclear but the plant figured in the Botanical Cabinet is the most likely candidate, particularly as the plants probably came from Loddiges' Nursery. This plant appears to lack the red blotch described by Galle, and this may be a different plant.
Published Jun 05, 2009 - 04:28 PM | Last updated Sep 12, 2011 - 04:46 PM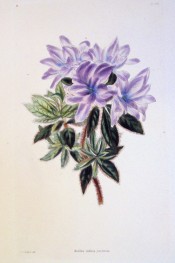 Family
Ericaceae
Category
Region of origin

China

Synonyms

Azalea indica L. purpureum
Azalea indica L. 'Lilacina'

Common Name

Indica Azalea

Name in the Camden Park Record

Azalea Indica purpurea

Confidence level
medium