Rhododendron x alterclerense Lindl.
An English hybrid azalea with crimson flowers. [PD]. This is undoubtedly one of the old Highclere hybrids of which 25 are listed in the 1836 edition of Loddiges' Nursery catalogue, a copy of which is held at Camden Park. Macarthur's plant is likely to have been one of these. See other references to varieties of Rhododendron x alterclerense for further details.
Horticultural & Botanical History
Introduced to cultivation about 1831. 'We have on several occasions lately presented our readers with figures of hybrid Azaleas of great beauty raised at Highclere, the seat of the Earl of Caernarvon. Lovely as those were, their ornamental character is almost as nothing compared with the subject of this account, in which every thing of beauty that a plant can possess seems collected, fragrance alone being wanting. With a clear transparent crimson colour, rendered still more bright by a few distinct spots of a darker hue, are combined a fine bold outline, a great breadth of surface, and the utmost symmetry; while the deep rich green of the magnificent foliage forms a back-ground in the most perfect harmony with the lively tints of the blossoms. The history of the creation of this superb plant deserves to be particularly described, as it not only shews how great the power of man is over nature, but holds out to us a prospect of the most gratifying kind in regard to the future gayness of our Gardens. Rhododendron arboreum is, as is well known, an Indian plant, bearing blossoms of an intense carmine, and having a stature equal to that of a small tree, but not hardy enough to live in the open air in this country, and also less beautiful than might be anticipated from the rich colour of its flowers, in consequence of the small size of its bunches. Some years ago it occurred to Lord Caernarvon, that if a hybrid variety could be obtained between this and some one of the hardy American species, the result would be a more robust constitution on the one hand, and a great brilliancy of colouring on the other; and also that if the pollen of R. arboreum could be employed, the stature of the hybrid would also be increased. An opportunity of ascertaining the justness of these expectations having occurred, the experiment was tried in the manner detailed in the following letter from Mr. gowan. How completely Lord Caernarvon's anticipations were realised, is shewn by the same account, and by the accompanying figure. To the hardiness of R. catawbiense is added the arborescent habit and rich colours of R. arboreum, while the contracted clusters of the latter are exchanged for the spreading bunches of the former.
"Highclere, May 13, 1831.
My Dear Sir,
You desire to have the history of the lovely Rhododendrons of which I sent you flowers a short time ago. They are intermediate between the magnificent Rhododendron arboreum of Nipal and a seedling Rhododendron from R. catawbiense, which had been fertilised by the pollen of Rhododendron ponticum. From the period of the introduction of Rhododendron arboreum into the Highclere Garden by my friend Dr. Wallich, and more particularly since its inability to withstand the rigour of this climate had been ascertained, Lord Caernarvon became desirous of producing a cross breed between it and the hardy species. We were not fortunate in bringing Rhododendron arboreum into bloom so early as we wished.
Being on a visit at the Grange in the autumn of 1825, I observed a specimen, which had been planted out in Mr. Baring's magnificent Conservatory, with flower-buds upon it. Mrs. Baring was so kind as to place one of the umbels at my disposal when it should come to flower. Three plants of hardy Rhododendrons were selected early in the winter, and removed from out-borders into boxes in readiness; and early in the spring of 1826, I received from the Gardener at the Grange a fine umbel of the flowers of Rhododendron arboreum in a tin case. Their pollen was used in fertilising the flowers of the hardy species which, by previous concert, had been brought into contemporaneous bloom. The result was the production of a number of capsules containing good seed, from which were raised above 1800 plants, which have been extensively distributed to Nurseries and private Gardens both in England and Scotland. The plants retained by Lord Caernarvon shewed flower-buds in small quantity late last autumn. Some of the most perfect were removed into pots early in the present season from the shrubberies, and, being placed under glass in a cool conservatory, have flowered. Upon their beauty I need not dilate; you have seen specimens, and are in a condition to form your own opinion. The plants are quite hardy, having never been damaged in the slightest degree by the winters of this climate; but they are very excitable, shoot very early, and will therefore in early springs be liable to be injured by late frosts. They make extremely vigorous growth, and, judging from the analogy which I have observed to prevail in hybrid productions, I am inclined to believe that they will attain to the height of 20 feet and upwards. Their foliage is very ornamental.
Believe me, my dear Sir,
Very truly yours,
J. R. Gowen."
There are in the Gardens other Rhododendrons having a somewhat similar origin, one of which has been figured lately by Mr. Sweet, under the name of R. Smithii; but they cannot be compared for beauty with the truly noble R. Alta-clerense.' [BR t.1414/1831].
History at Camden Park
Desideratum in a letter to Loddiges' nursery on 16th April 1846 but not recorded as grown. [MP A2933-2, p.28].
Notes
Published Jun 18, 2009 - 03:45 PM | Last updated Sep 08, 2011 - 05:18 PM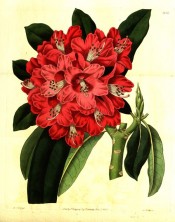 Family
Ericaceae
Category
Region of origin

Garden origin, England

Synonyms

Rhododendron arboreum Sm. var. altaclerense Lindl.
Rhododendron altaclerense Lindl.
Azalea hybridae altaclerensae [Lodd.]

Common Name

Azalea, Highclere hybrids

Name in the Camden Park Record

Rhododendron alta-clerense

Confidence level
high