Pistacia lentiscus L.
Half hardy, evergreen, resinous, aromatic shrub or small tree, with pinnate leaves, to 10cm long, composed of up to 7 pairs of leaflets, and dense panicles, to 3cm long, of male flowers, and looser panicles, to 6cm long, of brownish green female flowers, to 6cm long, in spring and summer, followed by blackish fruits. To 3m by 3m. [RHSE, Hortus].
Horticultural & Botanical History
An important plant, the source of mastic, a fragrant gum used in medicine and for making varnish. 'The Pistacia Lentiscus, of which our figure represents a male plant, is a native of the South of Europe and the Levant. Desfontaines says that it is very common in Barbary, both wild and cultivated, but he observes that it produces no Mastick, though the wood gives out an aromatic scent in burning. Both there and in Spain an oil is extracted from the the berries, which is used for eating as well as burning in lamps. It is pretty certain that the tree produces little or no Mastick except in the island of Chio, where it is an important article of cultivation; whence some botanists have doubted whether the Chio tree be not a different species from that of the European and African Continents; it seems however to be generally allowed that there is no specific difference between them. With us it makes a handsome greenhouse shrub and has been cultivated as such for a century and a half, being mentioned in Evelyn's Calendar, published in 1664.' [BM t.1967/1818].
'Pistacia lentiscus. The mastic tree, a native of southern Europe, northern Africa, and western Asia. Mastic is the resin of the tree and is obtained by making transverse incisions in the bark, from which it exudes in drops and hardens into small semitransparent tears. It is consumed in large quantities by the Turks for chewing to strengthen the gums and sweeten the breath. It is also used for varnishing.' [Saunders – USDA Catalogue of Economic Plants p.34/1891].
History at Camden Park
Listed in all published catalogues [T.757/1843]. Probably introduced to determine its potential to produce resins under Camden conditions.
Notes
Published Mar 16, 2010 - 05:00 PM | Last updated Jul 14, 2010 - 11:20 AM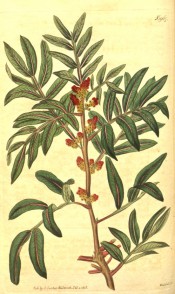 | | |
| --- | --- |
| Family | Anacardiaceae |
| Category | |
| Region of origin | Southern Europe, north Africa |
| Synonyms | |
| Common Name | Lentisc, Mastic tree |
| Name in the Camden Park Record | Pistacia lentiscens - Venice turpentine tree |
| Confidence level | high |