Olea europaea L.
Frost-hardy, slow-growing, evergreen tree, with opposite, leathery, elliptic leaves, to 8cm long, silvery beneath, and axillary panicles of tiny, fragrant, creamy white flowers in summer, followed by edible, ovoid green fruit, ripening to black. To 10m. [RHSE, Hortus, Hilliers'].
Horticultural & Botanical History
Olives are a very important commercial crop and have been grown for their oil since ancient times. Introduced to Britain in 1570. [JD]. Olive oil has also been used for its medicinal properties for centuries. 'The Olive Tree. Olea or Olea sativa. This tree grows to a great bigness in its native climate, the leaves are a deep green above and hoary underneath, the flowers yellow, & the fruit black when ripe. It grows in Spain, Italy and Turkey. The oil is moderately healing & mollifying, rendring the body lax & soluble; it helps disorders of ye breast & lungs, & eases gripings and the colic. It is of great use against all corrosive mineral poisons, as Arsenic Sublimate &c. It opens ye urinary passages & is good for ye stone & gravel. The pickled olives are grateful to ye stomach and provoke an appetite. The ripe olives are a great part of ye food of the Eastern Countries, among the Greeks; especially in Lent.' [Blackwell pl.199/1737]. LBC no.379/1819. LBC no.456/1820.
History at Camden Park
The first documented import of olives by the Macarthurs was in 1817 on board the 'Lord Eldon', although John Macarthur had indicated in 1816 in a letter to his wife Elizabeth that he intended to bring out olive trees [MP A2898]. The British Government paid for the construction and fitting-out of a greenhouse on board ship to house Macarthur's olives and vines, collected mainly on a tour of Europe with his sons James and William in 1808, including at least two varieties of olive from Provence. These plants were planted at the Parramatta property, Elizabeth Farm, but there is little doubt that cuttings from them were an early introduction to William's garden at Camden as William refers to them in the letter to John Reynell referenced below.
The production of olive oil does not seem to have become an important commercial enterprise at Camden Park although the Macarthur's were pioneers of olive growing. 'The original olive now in the Botanic Garden was presented to this Establishment by William MacArthur Esq from the garden of his father John MacArthur Esq at Parramatta, who at that period was to my knowledge, the only possessor of the olive in NSW. The second collection of olive plants into NSW was forwarded for this establishment by the Horticultural Society of London, in care of Archdeacon Scott. The third collection of those plants were introduced by Alexander McLeay Esq Colonial Secretary of which this establishment shared liberally. Captain Edward McArthur presented two [species] to the Gardens, viz. Oleifolia and Capensis [which see], and whether this occurrence took place previous to the arrival of Mr McLeay, has escaped my memory.' [Letter 2.11.1831 from C. Frazer, Superintendant of the Botanic Gardens Sydney, recipient unknown. MP A2943].
Thirteen years later olive production was still small scale. 'Very little progress has hitherto been made in the cultivation of the olive. The first imported tree is in the possession of our family and it is of great stature, but although more than 40 years old it has never borne what may be called a crop of fruit. In the Botanic Garden at Sydney plants propagated from this tree bear abundantly. The olive is of moderate size but the oil it produces is excellent. Our gardener can supply young plants from 38 shillings and 60 shillings per dozen raised from varieties imported from Provence.' [William Macarthur to John Reynell of South Australia, 11th November, 1845, MP A2933-2]. This letter suggests that olives were grown by the Macarthur's much earlier than 1818, in fact before 1805, but this may be an error on William's part.
Notes
Olives are naturalized in the Camden area, most notably the African Olive, Olea europaea L. subsp. cuspidata. But at Camden Park many of the naturalized olives are not the typical South African sub-species, but are very variable, ranging from almost pure subsp. europaea to apparently pure subsp. cuspidata. This and other aspects of the olive is discussed in more depth in the article on the Camden Park Olives to be found under Essays. [Not: this essay not yet published].
Olea europaea Thunb. (1794) = Olea verrucosa Link
Published Jan 20, 2010 - 03:29 PM | Last updated Jul 28, 2010 - 02:49 PM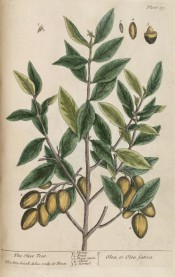 | | |
| --- | --- |
| Family | Oleaceae |
| Category | |
| Region of origin | Mediterranean |
| Synonyms | Olea europaea L. subsp. europaea |
| Common Name | Olive |
| Name in the Camden Park Record | Olea Europaea (six varieties) – Olive |
| Confidence level | high |