Mandevilla laxa (Ruiz. & Pav.) Woodson
Frost-tender, vigorous, freely branching, woody-stemmed, twining climber with pointed oblong leaves, to 10cm long, and racemes of 5-15 tubular, strongly fragrant, white flowers, to 9cm across, in summer and autumn. To 5m. [RHSE, Hilliers'].
Horticultural & Botanical History
'The lady owner of an elegant and well kept conservatory recently expressed surprise at seeing the Mandevilla rambling about the roof of a house in which it was standing, and [being] caressed with its deliciously fragrant clusters of snowy-white convolvulus-like flowers.' [Gard. Chron. 1853]. Introduced to Britain in 1837. [Hilliers']. BR f.7/1840. FC p.98/1845. 'Mr. Tweedie's remarks on my specimens in the herbarium are, "This is one of our best climbers, only to be met with in gardens about Buenos Ayres, and called "Chilian Jasmine." Its seed pods are a foot to a foot and a half long, generally two hanging together. The seeds are long and bearded like those of Echites." From the name given it in Buenos Ayres, it would appear to have been introduced from Chili; but we have seen nothing of the kind from that country. It is not considered to be hardy with us: and Dr. Lindley recommends that it should be cultivated in the conservatory, and observes that it is easily propagated by cuttings.' [BM t.3797/1840].
History at Camden Park
Listed in the 1850 and 1857 catalogues [T.666/1850]. Obtained from James Backhouse. Included among desiderata in a letter dated 10th April 1846 and recorded as arrived [MP A2933-1, p.136]. It was also included among desiderata in letters to Loddiges' Nursery dated 6th January 1845 [MP A2933-2, p.28] and 16th April 1846 [MP A2933-1, p.147] but in a letter dated 13th February 1848 [MP A2933-1, p.172] Macarthur reported that it was not thriving: 'Mandevilla suaveolens alone has not done well and will probably languish before it dies. I shall therefore require you to be so good enough to send it again.' It either recovered or was received from Loddiges' as Macarthur wrote in a letter dated 1st February, 1849 'the Mandevilla [ … ] doing perfectly well'. [MP A2933-1, p.185].
Notes
Naturalised locally in the Sydney area and elsewhere in NSW, including as far north as Tamworth. [FNSW].
Published May 29, 2009 - 05:15 PM | Last updated Jul 14, 2010 - 11:55 AM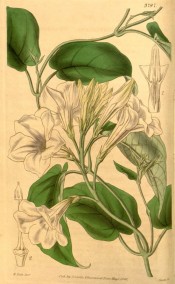 Family
Apocynaceae
Category
Region of origin

South America

Synonyms

Mandevilla suaveolens Lindl.
Echites laxus Ruíz & Pav.

Common Name

Chilean jasmine

Name in the Camden Park Record

Mandevilla suaveolens

Confidence level
high