Mandevilla crassinoda (Gardn.) Woodson.
Frost-tender, vigorous twining climber with lustrous leaves and racemes of deep rose-pink, funnel-shaped flowers in summer. [RHSD].
Horticultural & Botanical History
It differs only from the better known Mandevilla splendens only in its smaller leaves and smaller and more richly coloured flowers. [Gard. Chron. 1845]. 'Few plants of a twining nature are so suitable for pot culture as this charming Dipladenia. It produces a profusion of Convolvulus-like blossoms which remain long in perfection. For the decoration of a conservatory or flower-house during summer and early autumn, I know of no more useful plant'. [Gard. Chron. 1853]. 'This is one of the most useful of stove twiners, but to have it in anything like perfection, a warm moist atmosphere and careful treatment are essential.' [Gard. Chron. 1855]. 'The splendour displayed by the rich and delicate hues which beautify the blossoms of this plant, must induce every one to regard it amongst the most magnificent things disclosed during the season of 1844.' [MB p.25/1845]. 'It is a native of the more elevated parts of the Corcovado mountain near Rio Janeiro, where it was found by Mr. Gardener. It differs from D. splendens in its smaller and more richly coloured flowers, [and] in the form of its leaves, which are smaller and not cordate at the base.' [BF pl.64/1844]. Introduced to Britain in 1844, and probably first flowered at Wallington Hall, Northumberland in that year. [JD]. OFG f.17/1854. FC p.146/1845.
History at Camden Park
Listed only in the 1857 catalogue [T.392/1857]. It may have been obtained from the London Horticultural Society or Kew Gardens. It was included among desiderata in a letter to John Lindley dated 10th July 1848 and to Kew at about the same time but was not marked 'arrived'. It was requested again of Kew on 1st February, 1849 [MP A2933-1. p.177] and of Lindley again on 1st February, 1849 [MP A2933-1, p.182a].
Notes
Published Jan 16, 2009 - 11:48 AM | Last updated Jul 14, 2010 - 11:56 AM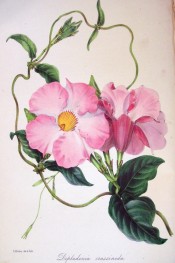 Family
Apocynaceae
Category
Region of origin

South America

Synonyms

Dipladenia crassinoda A.DC.
Dipladenia martiana A.DC.
Echites crassinoda Gardn.

Common Name
Name in the Camden Park Record

Dipladenia crassinoda

Confidence level
high