Jasminum officinale L. var. grandiflorum Kab.
See Jasminum officinale L. for more information on the species. More shrubby and robust than the type grandiflorum has larger, pink-tinged white flowers, to 4cm across. [RHSE, Hortus, Hilliers'].
Horticultural & Botanical History
'A species the nearest of any to the common Jasmine (Jasminum offcinale;) but differs from that in having an upright subarboreous stem, with divergent woody branches which do not require to be supported, and never acquire anything near the length these do in the other, the entire plant seldom exceeding four feet; in having horizontal, not upright buds, leaves of a brighter green, obtuse closer lateral leaflets, the one at the end much larger acuminate and most times decursively confluent with the two next; in having a larger, more substantial, and more exquisitely fragrant bloom, generally suffused with crimson on the outside.
A native of the East Indies; and if not aboriginal, certainly naturalized in the island of Tobago, where the woods, according to Miller who received it from thence, are filled with this shrub. In Surinam, we are told by the ingenious M. Sybilla Merian, it is spread over the country like a native bush, and is frequented by peculiar reptiles. But still it is not generally considered by naturalists as indigenous in any part of the West Indies or the South American continent.
From being cultivated in Catalonia, especially in the neighbourhood of Barcelona, to a greater extent than in any other part of Europe, it has acquired the English specific name by which it is known among us. It occurs likewise in almost every garden in Valentia, Murcia, and Andalusia, where, as in Catalonia, it is completely domesticated, thrives in the open ground the year through, and is hardly ever without bloom. In Portugal it goes by the name of the Italian Jasmine. The perfume, called Essence or Oil of Jasmine, is obtained from this species. The Moors manufacture the stems of their tobacco-pipes from its branches, where a tube is formed at once by evacuating the slender column of pith. The date of its introduction into Europe appears to have escaped the records of botanical chronology. It was already known in England in 1629.
Usually propagated by ingrafting in a stock of the common sort, on which it takes well, and becomes hardier than when had from layers. In this state it is imported from the Mediterranean by the Italian-Warehousemen, along with Orange and Lemon Trees, Myrtles, and Arabian Jasmine, with which it is usually kept in our greenhouses. But if strong well-rooted plants are turned out from their pots, without disturbing the mould they grow in, then placed in a warm border against a wall, and covered with mats in frosty weather; these will grow much more vigorously, and produce a longer succession and greater quantity of bloom than such as are kept in pots under shelter.
The common white Jasmine, supposed native of the East Indies, but the natural abode of which has been left a blank by the editors of the Hortus Kewensis, has been found by some late Russian naturalists to be indigenous in Imeretia, Circassia, and the adjacent regions.' [BR f.91/1816].
Jasminum grandiflorum was introduced to Britain in 1629 from India. [JD].
History at Camden Park
Listed in the 1850 and 1857 catalogues [T.595/1850]. It was requested of Loddiges' Nursery on 6th January 1845 [MP A2933-2, p.28] and again on 1st February, 1849 [MP A29331, p.185] and obtained from this source, brought out from England by Captain P. P. King. [ML A1980-3].
Notes
Published Jan 20, 2010 - 11:06 AM | Last updated Jul 28, 2010 - 02:43 PM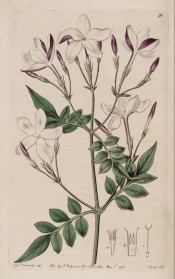 Family
Oleaceae
Category
Region of origin

Himalayas

Synonyms

Jasminum officinale L. 'Affine'
Jasminum grandiflorum L.

Common Name

Spanish jasmine

Name in the Camden Park Record

Jasminum grandiflorum

Confidence level
high