Iochroma cyaneum (Lindl.) M.L.Green
Frost tender, erect to spreading shrub with downy shoots, softly-hairy, ovate to lance-shaped leaves, to 15cm long, and drooping umbel-like trusses of up to 20, tubular, deep purple-blue flowers, to 5cm long, in summer. To 3m. [RHSE, Hortus].
Horticultural & Botanical History
'In the opinion of Mr. Bentham the plant now figured, which was mentioned in the last volume of this work under the name of Habrothamnus cyaneus, is better separated as a peculiar genus, to which two other species, also found by Mr. Hartweg in Equatorial America, must be added. "This new genus," writes Mr. Bentham, "differs from Habrothamnus in the aestivation of the corolla; and as far as I can judge from a not quite ripe fruit, in the fruit and seed belonging to the tribe of true Solaneae not to the Cestrineae. Mr. Hartweg states that the fruit is pulpy, a sort of berry, and not a dry capsule." Mr. Hartweg found this plant in the form of a shrub, from four to six feet high, growing in the mountains of Yangana, near Loxa. It flowered in the Garden of the Horticultural Society in August, 1844.' [BR f. 20/1845]. FS p.54 vol.1/1845. BR misc.72/1844.
History at Camden Park
Listed as Habrothamnus cyaneus among desiderata in a letter to James Backhouse, 10th April 1846. Recorded as arrived, but crossed out. [MP A2933-1, p.134]. It was also listed among desiderata in a letter to John Lindley, 15th February, 1848, and marked 'arrived' in Macarthur's copy [A2933-1, p.157]. It was also requested of Loddiges' nursery on 13th February, 1848 [MP A2933-1, p.172]. It was first listed in the catalogues in 1850 under the name Jochroma tubulosa [T.589/1850].
Notes
Published Feb 27, 2010 - 05:00 PM | Last updated Feb 27, 2010 - 05:06 PM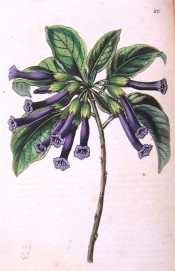 Family
Solanaceae
Category
Region of origin

South America

Synonyms

Iochroma tubulosa Benth.
Dunalia tubulosa (Benth.) J.F.Macbr.
Habrothamnus cyaneus Lindl.

Common Name
Name in the Camden Park Record

Jochroma tubulosa

Confidence level
high