Fraxinus ornus L.
Fully-hardy, bushy-headed, rounded, deciduous tree with pinnate leaves, to 20cm long, composed of 5-9 leaflets, turning purple-red in autumn, and large terminal and axillary panicles of fragrant, creamy flowers in spring and summer. To 15m. [RHSE, Hortus, Hilliers'].
Horticultural & Botanical History
The source of Manna, a mild laxative long used in medicine. 'F. ornus is the celebrated Manna Ash, a native of the East and Mediterranean regions, which has several varieties. It is an effective and hardy tree in England, and even in London gardens is vigorous and handsome. It is grafted on the Common Ash, so what it would be if on its own roots we have no knowledge. Its place is among the larger flowering trees.' [W. Robinson – The English Flower Garden and Home Grounds p.577/1909].
'This tree greatly resembles our common ash: it is lofty, much branched, and covered with a greyish bark. The young shoots produce the leaves, which are pinnated, opposite, and consist of several pair of pinnae, or small leaves, terminated by an odd one, pointed, serrated, veined, standing upon footstalks, of an oval or oblong shape, and bright green colour. The flowers grow in close thick branched spikes, and open in May and June. In the specimen we have figured, the flowers were all hermaphrodite; the corolla divided into four narrow whitish segments, somewhat longer than the stamina; the two filaments tapering, and crowned with large furrowed erect anthera; the germen oval, and a little compressed; the style short and cylindrical; the capsule is long, flat, membranous, and contains a single flat pointed seed.
This tree is a native of the southern parts of Europe, particularly of Sicily and Calabria. It was first introduced into England about seventy years ago, by Dr. Uvedale; and at present adorns many of the gardens of this country.
The Ornus is not the only species of ash which produces Manna; the rotundifolia and excelsior, especially in Sicily, also afford this drug, though less abundantly. Many other trees and shrubs have likewise been observed, in certain seasons and situations, to emit a sweet juice, which concretes on exposure to the air, and may be considered as of the manna kind. In Sicily the three species of the Fraxinus, mentioned above, are regularly cultivated for the purpose of procuring Manna, and with this view are planted on the declivity of a hill, with an eastern aspect.' [Medical Botany p.589, pl.209/1832].
Introduced to Britain in 1730. [PD].
History at Camden Park
Listed in all published catalogues [T.711/1843].
Notes
Published Jan 20, 2010 - 12:26 PM | Last updated Jul 28, 2010 - 02:35 PM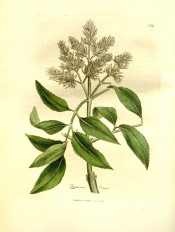 | | |
| --- | --- |
| Family | Oleaceae |
| Category | |
| Region of origin | Southern Europe and Asia |
| Synonyms | |
| Common Name | Flowering ash, Manna ash |
| Name in the Camden Park Record | Ornus Europaeus - Flowering Ash |
| Confidence level | high |