Dendrocalamus strictus (Roxb.) Nees
A deciduous, densely-tufted bamboo, the leaves lance-shaped, small in dry situations but up to 45cm long and 3cm broad under good conditions. To 17m. The young shoots are edible but it is extensively grown for its timber. [Several internet sources].
Horticultural & Botanical History
'Bambos stricta. Male, or solid Bamboo. Sadanapa Vedroo of the Telingas.
Stems fewer, straighter, and smaller, than in the common sort [Bambusa arundinacea (Retz.) Willd. synonym Bambos arundinacea Retz.], otherwise they are the same. Thorns oftener wanting. Inforescence the same as in B. arundinacea. Verticils sessile, globular, very devise, surrounding entirely the branchlet. Spikelets of the verticil crowded, two-ranked, &c. as in B. arundinacea. Calyx as in the last, except that the scales are longer, and common to two or three spikelets; here the flowers are generally all hermaphrodite, and seldom more than three to the calyx. Corol two-valved: exterior valvelet downy, with a very sharp dagger'd point; inner valve as in B. arundinacea. I could not perceive any nectary. Stamens six. Pistil woolly. Stigma two-cleft, thread-form. Seed as in the last.
This is evidently a distinct species. It grows in drier situations, is not near so large, has a much smaller cavity, and is very straight. Its great strength, solidity, and straightness, render it much fitter for a variety of uses than the common sort; and it is particularly employed by the natives to make shafts to their spears.' [Roxburgh vol.1, pl.80].
Bambusa pubescens is described in Johnson's Dictionary as a bamboo from Indonesia growing to 6m. which has edible shoots. Introduced to Britain in 1826. This brief description does not seem to match either Dendrocalamus strictus or Phyllostachys pubescens.
History at Camden Park
Listed in all catalogues [T.129/1843].
Notes
Another possibility is Phyllostachys pubescens Mazel ex H. de Lehaie, which see. Macarthur frequently used names found in Conrad Loddiges' nursery catalogues or in the Botanical Cabinet and it seems likely that his plant was Loddiges' Bambusa pubescens. Neither Dendrocalamus strictus nor Phyllostachys pubescens can be accurately described as 'dwarf' except in a relative sense, such as Roxburgh's 'stems fewer, straighter, and smaller, than in the common sort'. There are a number of Bamboo species surviving in the gardens, none definatively identified. When this is done it may provide an accurate identification for Macarthur's Bambusa pubescens.
Published Mar 28, 2009 - 05:00 PM | Last updated Mar 30, 2010 - 01:33 PM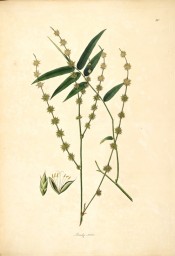 Family
Poaceae
Category
Region of origin

Indian sub-continent and South East Asia

Synonyms

Bambusa pubescens Lodd. ex Lindl.
Bambusa glomerata Royle
Bambusa hexandra Lindl.
Bambusa stricta (Roxb.) Roxb.
Nastus strictus Sm.
Oxytenanthera thwaitesii Munro

Common Name

Male bamboo, Calcutta bamboo

Name in the Camden Park Record

Bambusa pubescens - dwarf bamboo

Confidence level
medium