Chiranthodendron pentadactylon Larreat.
Tender evergreen tree downy stems, 5- to7-lobed palmate leaves and solitary, axillary, reddish, downy flowers with very prominent 5-lobed stamens, somewhat resembling a hand. To 10m or more. [RHSD].
Horticultural & Botanical History
'It was towards the latter part of the last century (about 1787) that a scientific expedition, under Sesse and Mocino, was sent by the Spanish Government to Mexico, then called New Spain, and where the attention of the botanists was attracted by a remarkable tree, venerated from time immemorial by the Indians on account of the peculiar structure of the large and very conspicuous flowers, which have their five stamens so arranged as to resemble the human hand, including the arm and wrist. It was believed to be a solitary tree, of which no other example existed, or could exist, in the world. Nor was it till about 1801 that a pupil of Professor Cervantes detected forests of the same tree in Guatemala, and near the city of that name. "This tree had consequently," write Humboldt and Bonpland, who gave to this new genus the name of Cheirostemon, "been transported by the Indians of Toluca from its native woods, and that, too, long before the conquest of America, since it is recorded in the writings of authors, previous to the celebrated expedition to Mexico, under the Indian name Macpalxockiquauhitl, signifying Hand-flower-tree. It was, however, never botanically noticed till 1795, and then by Professor Cervantes. So great an object of curiosity was this with all the inhabitants of New Spain, that the flowers were gathered with avidity by the Indians even before their full expansion, and thus seeds were not allowed to ripen. Cuttings were transported to gardens in Mexico by Sesse and Mocino; and at length their labours were rewarded by one, and only one, succeeding." Humboldt and Bonpland brought seeds to Paris on their return from Mexico, but none of them germinated. More perfect seeds were afterwards readily obtained. Humboldt, in 1811, speaks of its being in collections at Paris and Montpellier; and not long after Mr. Lambert seems to have introduced it to English gardens. A fine plant had been long in cultivation at Kew, where it has attained a height of twenty-three feet, but never showed any disposition to flower. Happily Charles Dorrien, Esq., of Ashdean, has been more successful, and fine and perfect flowers were produced in his garden in the spring of 1859, from which, by the kindness of this gentleman, our figures have been made.' [BM t.5135/1859].
The hand-flower tree is one of the most celebrated of Mexican plants, and was well known to the early inhabitants. It is restricted in its distribution, and for a long time the only tree known to the residents of the Valley of Mexico was one growing at Toluca. Even long after the Conquest this was believed to be the only tree of its kind, except for its progeny planted elsewhere in the valley. The stamens bear a striking resemblance to a hand and wrist with outspread fingers, and because of the remarkable form of the flowers the tree was viewed with veneration. Trees of this species are of frequent occurrence in the gardens of the City of Mexico and elsewhere.
The tree is figured by Hernandez under the name "Maopalxochi Quahuitl," but without description. Cervantes reports that the infusion of the flowers was employed by the Indians of Toluca as a remedy for inflammation of the eyes and for hemorrhoids.' [Standley – Contributions from the US National Herbarium, vol.23, Trees and Shrubs of Mexico, p.796/1920-26].
Sometimes placed in Malvaceae.
History at Camden Park
Cheirostemon platanoides was included in a consignment of plants sent from Kew by John Bidwill in November 1843 [AJCP]. Although it is very likely that these plants were sent to Camden to the care of William Macarthur. There is no other evidence of its being grown there.
Notes
Published Apr 01, 2010 - 02:42 PM | Last updated Apr 01, 2010 - 02:55 PM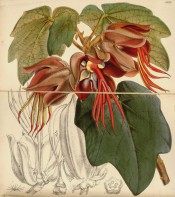 | | |
| --- | --- |
| Family | Sterculiaceae |
| Category | |
| Region of origin | Mexico |
| Synonyms | Cheirostemon platanoides Humb. & Bonpl. |
| Common Name | Hand plant |
| Name in the Camden Park Record | Cheirostemon platanoides |
| Confidence level | high |