Cestrum elegans (Brong. ex Neumann) Schltdl.
Frost tender, vigorous, evergreen shrub with alternate, softly hairy, oblong leaves, to 12cm long, and axillary and terminal cymes of tubular to funnel-shaped, vivid orange flowers in autumn, followed by black berries. To 3m. [RHSE, Hilliers', Hortus].
Horticultural & Botanical History
Introduced to Belgium in 1839 by Louis van Houtte, thence to Lucombe and Pince and the Horticultural Society of London. [MB p.193/1847]. 'The figures hitherto published by Van Houtte and Lindley give no idea of the size and beauty of the flower of this fine plant, and these are succeeded by magnificent grape-like clusters of deep purple globular berries one-third of an inch in diameter. The Habrothamnus section of Cestrum are all natives of Mexico. Several species are described, evidently very closely, if not too closely related. The present grows at elevations of 3-4000 feet, and succeeds well in a temperate house. The plant fruited was sent by Mr. Henderson, of Wellington Nursery.' [BM t.5659/1867]. The figure shows bright red berries, probably unripe, rather than black.
BR f.30/1843. FS pl.IX 2e Liv./1846.
History at Camden Park
Listed in the 1850 and 1857 catalogues [T.533/1850]. Obtained from Kew Gardens, brought out from England by Captain P. P. King in 1849. Macarthur believed it to be 'common before or long introduced'. [ML A1980-3]. Recorded as an occasional garden escape but not a significant weed in NSW [FNSW].
Notes
Published Feb 27, 2010 - 04:26 PM | Last updated Feb 27, 2010 - 04:37 PM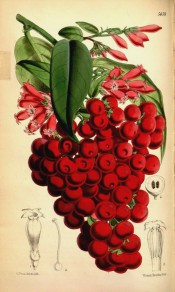 | | |
| --- | --- |
| Family | Solanaceae |
| Category | |
| Region of origin | Mexico |
| Synonyms | Habrothamnus elegans Brong. ex Neumann |
| Common Name | |
| Name in the Camden Park Record | Habrothamnus elegans |
| Confidence level | high |