Catalpa bignonioides Walt.
Fully hardy, spreading tree with ovate, heart-shaped leaves and white flowers, to 5cm across, marked with yellow and brown, in upright panicles in summer, followed by slender pods. To 15m. [RHSE, Hilliers'].
Horticultural & Botanical History
'The Catalpa, which Catesby says was first discovered by himself and brought to Carolina, where it was afterwards much cultivated on account of its beauty, has been long an inhabitant of our gardens, being introduced by the same Botanist about the year 1728. In sheltered situations, if the soil be moist and rich, it thrives freely and forms a very handsome tree, but where exposed to the north-east winds is apt to be greatly disfigured by the perishing of the ends of the shoots. It bears the smoke of large towns better than most trees; the largest specimen we have seen grows in the garden belonging to the Society of Gray's-Inn.' [BM t.1094/1808].
'This beautiful deciduous tree is a native of the banks of the Ohio and Mississipi. […] It endures our winters very well and when it has attained the height of ten or twelve feet, produces its elegant flowers, which, surmounting the magnificent leaves, have a charming effect.' [LBC no.1285/1828].
History at Camden Park
Listed in all published catalogues [T.286/1843].
Notes
Catalpa syringifolia Bunge (1833) = C. bungei C.A.Mey, a Chinese species which, although described in the 1830s, was probably not introduced to European gardens for another 70 years. [RHSD].
Published Feb 25, 2010 - 03:30 PM | Last updated Feb 25, 2010 - 03:37 PM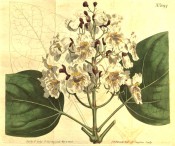 Family
Bignoniaceae
Category
Region of origin

South east USA

Synonyms

Catalpa syringaefolia Sims
Catalpa catalpa H.Karst.
Catalpa communis Dum.Cours.
Catalpa cordifolia Jaume
Bignonia catalpa L.

Common Name

Indian bean tree, Southern catalpa

Name in the Camden Park Record

Catalpa syringaefolia

Confidence level
high