Brugmansia 'Knightii'
Brugmansia x candida Pers. is a Brugmansia aurea Lagerh. x Brugmansia versicolor Lagerh. hybrid. Frost tender open shrub or tree with oblong-elliptic, wavy-margined leaves and trumpet-shaped, night-scented flowers. The cultivar 'Knightii' has double ('hose-in-hose') white flowers to 30cm long, from summer to autumn. To 5m. [RHSE, Hortus].
Horticultural & Botanical History
Brugmansia 'Knightii' was raised in England ca. 1844 at Knight's nursery, Chelsea and named by George Glenny. It was strongly recommended for conservatory beds by The Gardeners Chronicle 'on account of its magnificent habit, its elegantly formed, pendulous, double white flowers, the delicious fragrance which it sheds around and its prolific blooming.' [Gard. Chron. 1850].
Brugmansia x candida was commonly grown in Central America and occurred in a double form. It was reportedly introduced to Europe in the early 17th century. 'This plant [Datura candida (Pers.) Pasquale] is common in cultivation in the warmer parts of Mexico, being extremely showy when in flower. It has usually been known as D. arborea. It is, probably this species of which Acosta wrote in 1606, as follows: "It is true that many of these flowers [of New Spain] are only good to look at, for their odor is not good, or is ordinary, or else they have none at all, but there are some of excellent odor. Such are those that grow on a tree called floripondio, which has no fruit, but bears only flowers, which are larger than fleur de lys, shaped like hand-bells, all white, and having within filaments such as one sees in a lily. It bears flowers all the year long, whose odor is wondrously sweet and pleasant, especially in the fresh morning air. The Viceroy Don Francisco de Tollede sent some of these trees to King Philip, as a thing worthy of being planted in the royal gardens."' [Standley – Trees and Shrubs of Mexico. Contributions from the US National Herbarium vol.23, part 1, p.1285/1920]. No record has been found of this plant successfully established in Spain in the early 17th century.
After its introduction in 1844 'Knightii' quickly became popular in England and has continued to be so. 'In the green house at the Royal Gardens, Kew, there is a plant trained with a single stem five feet high, having several branches forming a head three feet round, now in fine bloom. Its numerous long white double drooping flowers are exceedingly beautiful.' [FC p.218/1850]. 'I send you a picture of Datura (Brugmansia) Knightii, a native of Africa [sic], growing in the open in the "white garden" of the Rookery, Streatham Common. The stems have been pruned to a height of from 5ft. to 7ft. in order to facilitate removal and transport to Battersea, where they are kept under shelter during the winter. The large white trumpet-shaped flowers (double) here attain a length of about 10ins., but at Kew, where the plant is grown under glass and not cut down, the flowers are larger. – H. C. Ward.' [The Garden vol.86, p.442, Sept. 2/1922].
The name 'Knightii' was sometimes confused in Victorian nurseries with other, often single-flowered brugmansias. For example, Curtis's Botanical Magazine figures Brugmansia [Datura] cornigera (Hook.) Lagerh. with the comment that it was sold 'sometimes under the name of B. Knightii'. [BM t.4252/1846]. Johnson's Dictionary gives a date of introduction of Datura candida into England from Peru of 1813, but, as discussed above, it was reportedly introduced to Spain 200 years earlier.
History at Camden Park
Listed in the 1850 and 1857 catalogues [T.176/1850].
Notes
My thanks to Alistair Hay for information on this and other Brugmansias. For further information see Hay, A., M. Gottschalk & A. Holguin (2011, in press). Huanduj — The Genus Brugmansia. Florilegium Books, Sydney.
Published Feb 27, 2010 - 02:01 PM | Last updated Jun 14, 2011 - 03:55 PM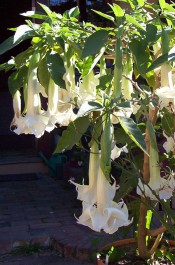 | | |
| --- | --- |
| Family | Solanaceae |
| Category | |
| Region of origin | See Botanical and Horticultural History |
| Synonyms | Brugmansia knightii Glenny ex Bosse. |
| Common Name | |
| Name in the Camden Park Record | Brugmansia Knightii |
| Confidence level | high |