Brachychiton bidwillii Hook.
Variable frost tender shrub, deciduous when flowering, with ovate leaves, to 25cm, often 3- or 5-lobed, axillary clusters of tubular red or crimson flowers, sometimes yellow inside. To 4m. [RHSD, Hortus].
Horticultural & Botanical History
Seeds collected at Wide Bay were sent to Kew Gardens in 1851 by John Bidwill. 'Seeds of this remarkable plant were sent to the Royal Gardens of Kew in 1851, from the Widebay district, north-east Australia, by the late Mr. Bidwill. I refer it with little hesitation to the section Brachychiton of Sterculia, of Schott and Endlicher, of which Brown has, together with the sections Poecilodermis and Trichosiphon (all tropical New Holland plants), constituted his genus Brachychiton. Of the five species recorded by Mr. Brown, I believe very imperfect specimens exist in herbaria. That which Dr. Mueller has found at Victoria River (north-west Australia), and calls Br. ramiflorum, in many respects resembles this; but the leaves are not, or very imperfectly, three-lobed, and the calycine lobes are short and very obtuse, otherwise the two appear to be almost identical. It is treated with us as a stove-plant, and flowered for the first time in the autumn of 1858, continuing in blossom throughout the whole winter and spring.' [BM t.5133/1859]. FS f.1465/1859.
History at Camden Park
Listed in the 1850 and 1857 catalogues [T.947/1850]. It is likely that William Macarthur received material from Bidwill at the same time as Kew Gardens or earlier. He wrote of this plant in a letter to Loddiges' Nursery, 13th February, 1848: 'I have a very beautiful flowering crimson Sterculia from Moreton Bay to send you when the plants are a little stronger. It is described as being a shrub of very moderate growth producing a profusion of crimson velvety blossoms.' [MP A2933-1, p.172]. On 1st February 1849 Macarthur sent Loddiges' Nursery [in London] '2 Brachychiton sp. from Moreton Bay with velvety crimson blossoms, good', which are probably the same plant. [MP A2933-1, p.185].
Notes
Published Mar 07, 2010 - 05:00 PM | Last updated Jul 31, 2010 - 04:32 PM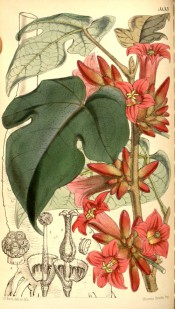 | | |
| --- | --- |
| Family | Sterculiaceae |
| Category | |
| Region of origin | Northern Australia |
| Synonyms | Sterculia bidwilli Hook. ex Benth. |
| Common Name | |
| Name in the Camden Park Record | Sterculia sp. nova (Bidwill) |
| Confidence level | high |