Bignonia unguis-cati L.
Vigorous, woody climber with persistent underground tubers, twining climbing branches and solitary bright yellow flowers. The name Cat's Claw relates to the claw-like leaf appendages, seen clearly in the figure, which aid climbing. [RHSD, Hortus].
Horticultural & Botanical History
Introduced to Britain in 1838. [JD]. 'For this new Bignonia we are indebted to the Hon. W. F. Strangways, by whom it was imported from Buenos Ayres in 1838. It is very nearly allied to B. aequinoctialis, from which it differs in having much narrower leaflets, a distinctly lobed 2-lipped calyx, and a more slender flower whose lobes are deeply divided, and narrower at the base than at the apex. The name of B. aequinoctialis does not occur among the species enumerated by M. DeCandolle in his Revue de la famille des Bignoniacées, but we presume it must be retained by him in the genus Bignonia proper, of which it appears that 200 species are known to that learned Botanist. Considering their uniform beauty it is surprising that we should not find them commonly cultivated, and that out of so large a number, inhabiting parts of the tropics constantly visited by Europeans, scarcely any collection can boast of a dozen species. This is a greenhouse plant of the most easy cultivation, striking readily from layers or cuttings, and growing freely from seeds when they can be procured. It will succeed in almost any soil, but prefers a mixture of loam, peat, and sand, thriving best and seen to the greatest advantage if planted out in the border of the conservatory and trained over a considerable space. The flowers are produced freely, hanging down and having a very pretty and graceful effect.' [BR f.45/1840]. The flowers are a much brighter yellow than depicted in the Botanical Register figure.
History at Camden Park
'Bignonia sp. Nova' is listed in all published catalogues [T.162/1843]. Bignonia unguis-cati is a major persistent weed in the gardens, infesting large areas. The often very large, deeply-placed tubers make eradication of this plant difficult. I have found no record of its introduction to the gardens.
Notes
The designation 'sp. nova' suggests an Australian plant and was often used in this sense by Macarthur and his 'Bignonia sp. Nova' is more likely to be an Australian native, perhaps Pandorea pandorana (Andr.) Steenis, which see.
Published Feb 25, 2010 - 03:11 PM | Last updated Jul 15, 2010 - 10:39 AM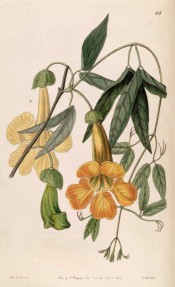 Family
Bignoniaceae
Category
Region of origin

South America

Synonyms

Doxantha unguis-cati Rehder
Bignonia tweediana Lindl.

Common Name

Cat?s claw creeper

Name in the Camden Park Record

Bignonia sp. Nova

Confidence level
low