Bauhinia scandens L.
Frost-tender evergreen woody climbing shrub, branching from the ground, with terminal racemes of small, deep pink flowers in spring and autumn. To 2.5m. [Don].
Horticultural & Botanical History
Introduced to Britain in 1790. [JD]. 'Gunda-gilla [is] the vernacular name in Silhet, where it is indigenous in the forests of the province, running up, and over trees of the first magnitude. Flowering in April and the seed ripening in October.' [Roxburgh FI vol.II, p.326/1832]. Figured in Plants of the Coast of Coromandel as Bauhinia anguina Roxb. [Roxburgh pl.285/1795-1819].
History at Camden Park
Listed in all published catalogues [T.135/1843]. A single plant was presented to the Sydney Botanic Gardens by William Macarthur on 27th September 1847 [RBGS AB].
Notes
Macarthur's plant could be one of the following
Bauhinia scandens Roxb. (1814) = Bauhinia macrostachya Wall., syn. Bauhinia racemosa Lam. which see.
Bauhinia scandens Blanco (1837) = Bauhinia cumingiana Villar
Bauhinia scandens Burm.f. (1768) = Bauhinia corymbosa Roxb. BM t.6621/1882.
but not Bauhinia scandens Sessé & Moc. (1894), from Mexico, the plant that today often goes under this name.
Published Dec 07, 2009 - 11:26 AM | Last updated Jul 18, 2010 - 04:48 PM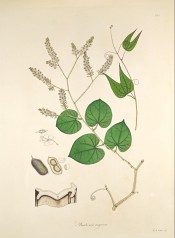 Family
Fabaceae
Category
Region of origin

Asia, including Hong Kong

Synonyms

Bauhinia anguina Roxb.
Bauhinia scandens L. var. anguina (Roxb.) H.Ohashi

Common Name

Climbing Bauhinia, Climbing Orchid Tree

Name in the Camden Park Record

Bauhinia scandens

Confidence level
medium