Acacia riceana Hensl.
Graceful, often weeping, small tree with up to 4 needle-like, spine-tipped phyllodes at each joint, to 5cm long, and globose heads of yellow flowers forming spikes up to 5cm long. To 10m. [RHSD, Hortus, Hilliers'].
Horticultural & Botanical History
Considered a highly desirable garden specimen by Johnson's Dictionary. Introduced to Britain in 1823. [JD].
'This is by far the most beautiful Acacia of Tasmania, to the southern parts of which island it seems to be confined; growing like a weeping willow on the banks of the streams that fall into the Derwent. It was discovered by Robert Brown in the early part of the century, but it was not till nearly forty years afterwards that it was made known in this country; firstly by specimens communicated to Sir Wm. Hooker by Ronald Gunn, Esq., F.R.S., and afterwards from seeds sent to the Right Hon. T. Spring Rice (then Chancellor of the Exchequer, afterwards Lord Monteagle); in honour of whom it was named. It is remarkable that so fine a greenhouse ornament should be comparatively rare in cultivation; for its deep green perennial foliage, its long whip-like pendent branches, clothed with golden flowers, the facility with which it can be trained over columns and arches, and the length of time during which it remains in flower, render it one of the most desirable acquisitions for a conservatory. In the form of the leaves, and in certain other characters, it so closely resembles certain states of Acacia mucronata, that they are often mistaken for one another; but besides the great difference in habit, there is no resemblance whatever between their pods. For cuttings of the true plant, the Royal Gardens are indebted to Mr. H. Knight, gardener to His Grace the Duke of Roxburghe, at Floors Castle, where a single plant festoons the glazed corridor for full 50 feet of its length, flowering during many months of the year, from March or April onwards.' [BM t.5835/1870]. LBC no.1225/1828.
History at Camden Park
Acacia taxifolia is marked with an 'x' in an 1836 edition of Loddiges' catalogue held at Camden Park [CPA]. The meaning of this is uncertain but plants growing at Camden were marked with a 'c' in the same catalogue and many plants marked with an 'x' subsequently appeared in lists of desiderata to Loddiges'. It is possible that William Macarthur was familiar with this plant through Van Dieman's Land contacts but may not have seen a living plant.
Notes
Acacia taxifolia A.Cunn. (1825) = Acacia trinervata Sieb. ex DC.
Acacia taxifolia Willd. (1806) probably = Cephalanthus angustifolius Lour. (Rubiaceae) a Chinese species. [Transactions of the American Philosophical Society vol. 24, part 2, p.363, 1935].
Published Dec 26, 2009 - 01:12 PM | Last updated Jul 18, 2010 - 03:44 PM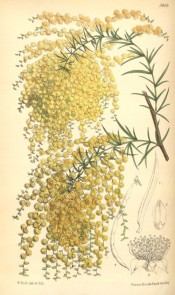 Family
Fabaceae
Category
Region of origin

Tasmania

Synonyms

Acacia taxifolia Lodd.
Racosperma riceana (Hensl.) Pedley

Common Name
Name in the Camden Park Record

Acacia taxifolia

Confidence level
high