Yucca bowieana [Macarthur]
Unidentified Yucca or related species. I have found no reference to a plant of this name.
It is possibly an error with Aloe bowieana intended, although it seems unlikely that Macarthur would mistake a plant from the Americas with one from South Africa. See Notes.
Horticultural & Botanical History
No data
History at Camden Park
Listed in the 1845, 1850 and 1857 catalogues [B.453/1845].
Notes
The identity of Aloe bowieana Salm-Dyck is unclear with the Plant List regarding it as an unresolved name but the Red List of South African Plants listing it as a synonym of Gasteria bicolor Haw. var. bicolor. This is a small succulent perennial 7-25 cm tall, but can attain greater size in some populations, up to 40-60 cm in height. It has fleshy, deep green leaves edged with white and covered in white splashes. [http://www.cactus-art.biz/schede/GASTERIA/Gasteria_bicolor/Gasteria_bicolor_liliputiana/Gasteria_bicolor_liliputiana.htm].
Aloe bowiea Schult. & Schult.f. is another possibility. This plant was collected by the Kew collector James Bowie in the Cape of Good Hope in 1821 or 1822. This plant is a stemless, clump forming succulent reaching a maximum height of 140 mm and several plants form mats that can be up to 500mm in diameter. Leaves are a pale green colour, long and thin in shape, broad at the base with whitish spots near the base and tiny white teeth at the leaf margins. [http://www.succulents.co.za/aloes/dwarf-aloes/aloe-bowiea.php].
It should be noted that both plants were named in honour of James Bowie who collected for the Royal Gardens at Kew in both Brazil and South Africa. However, Yuccas do not extend as far south as Brazil, being confined to parts of Central America and North America.
Published Jan 22, 2009 - 02:39 PM | Last updated Feb 10, 2012 - 05:33 PM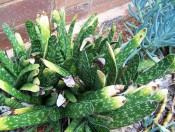 | | |
| --- | --- |
| Family | Agavaceae |
| Category | |
| Region of origin | Presumably the Americas |
| Synonyms | |
| Common Name | |
| Name in the Camden Park Record | Yucca Bowieana |
| Confidence level | low |