Yucca aloifolia L.
Frost-tender, slow-growing, rounded shrub or small tree with a simple or branched stem, linear to narrowly lance-shaped, toothed leaves, ending in a stiff point, and, from summer to autumn, stout, erect panicles of pendant, bell-shaped, white, sometimes purple-tinged, flowers held above the foliage. To 8m. [RHSE, Hortus]. See also Yucca aloifolia L.f. var. draconis (L.) Voss.
Horticultural & Botanical History
First botanically described as Yucca aloifolia by Linnaeus in 1753 [Sp. Pl. p.319/1753]. A variable species as the large number of synonyms and recognised varieties attests.
'The most lofty of its genus yet known to us; the stem rising sometimes to near eighteen feet even in this country. […] Usually kept in the greenhouse or conservatory, where we have seen vigorous plants, ten feet high and as thick as a man's arm, in garden pots not more than a foot deep. It is said to thrive better in the open ground, and to flower there much longer, when the seasons are favourable. We had not the opportunity of seeing the present plant, which flowered last October in the garden of Mrs. Walker, at Stockwell. Native of both North and South America. Cultivated in 1696, in the King's Garden, at Hampton Court.' [BM t.1700/1815]. MB p.25/1836.
'Yucca aloifolia grows only in the neighborhood of the coast and on its islands, and is distributed from North Carolina southward to southern Florida, and along the Gulf to eastern Louisiana. In the Atlantic states it usually grows close to the sea, generally on the sand-dunes of beaches and the sandy borders of brackish swamps; in Florida it is abundant on the sand-dunes of the coast, and occasionally occurs on rich hummocks, whither it may have been carried by the Indians, who used the fibres of its leaves; and west of the Appalachicola River, where it attains its largest size, Yucca aloifolia is common on the islands and beaches of the coast, and extends inland for thirty or forty miles, growing with stunted Oaks in the dry sandy soil of the Pine forest. The wood of Yucca aloifolia has not been examined.
The succulent fruits, which have a sweet and rather pleasant flavor, are eagerly devoured by birds, and are occasionally eaten by whites and negroes in the southern states, where they are often called bananas.
Yucca aloifolia was one of the first Yuccas known to Europeans, and one form of it appears to have been described by Caspar Bauhin in 1623. After the settlement of the southern coast of North America by Europeans it must soon have been carried to the West Indies, as it was thoroughly naturalized in Jamaica and other islands more than a century ago, and to the Mexican Gulf coast, where it is also naturalized and is believed by many authors to be indigenous.
Yucca aloifolia is now a familiar object in the gardens of all temperate countries, and accidental forms with leaves variously striped with green, white, and yellow are common in cultivation.' [Sargent – Silva of North America vol.10, p.7/1896].
History at Camden Park
Listed in the 1845, 1850 and 1857 catalogues [B.452/1845].
Notes
Yucca aloifolia Torr. (1861) = Yucca whipplei Torr.
Published Jan 22, 2009 - 02:31 PM | Last updated Jan 17, 2012 - 05:13 PM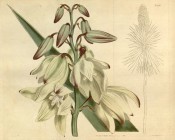 Family
Agavaceae
Category
Region of origin

South-East USA, Mexico, Caribbean

Synonyms

Yucca serrulata Haw.
Yucca crenulata Haw.
Yucca arcuata Haw.
Yucca tenuifolia Haw.
Yucca atkinsii Baker
Yucca conspicua Haw.
Yucca draconis L.
Yucca haruckeriana Crantz
Yucca parmentieri Carrière
Yucca purpurea Baker
Yucca quadricolor Baker
Yucca tricolor Baker
Yucca yucatana Engelm.
Dracaena lenneana Regel
Sarcoyucca aloifolia (L.) Linding.

Common Name

Spanish bayonet

Name in the Camden Park Record

Yucca aloifolia

Confidence level
high