Viburnum odoratissimum Ker-Gawl.
Frost-hardy, vigorous, bushy, evergreen shrub with oval, leathery leaves, and large, conicle panicles of fragrant white flowers in late summer, followed by red fruits, ripening to black. To 5m. [RHSE, Hortus, Hilliers'].
Horticultural & Botanical History
Introduced to Britain in 1818. [JD]. According to Johnson's Dictionary introduced to Britain under the name of Viburnum sinensis in 1841. 'A handsome evergeen shrub, with blossom scarcely inferior in fragrance to that of the well-known Sweet Olive of India (Olea fragrans). The species is of recent introduction, and said to be native of China. It does not appear to have been recorded. The plant from which the drawing has been taken was kindly sent to us by Sir Abraham Hume from the collection at Wormleybury, where it flowered last February for the first time in this country. It has been treated till now as a hothouse plant, but will probably be found to flower more freely when it shall have been treated less tenderly. We saw fine strong samples of it in the stove at Messrs. Colville's, of the Chelsea Nursery in the King's Road; but none of them have yet been brought to flower.' [BR f.456/1820].
History at Camden Park
Listed in all published catalogues as Viburnum odoratissimum [T.992/1843] although it was also obtained from Kew Gardens, brought out from England by Captain P. P. King in 1849. Macarthur indicates that it was 'common before or long introduced'. [ML A1980-3]. Also listed in all published catalogues as Viburnum sinense. [T.988/1843].
Notes
A less likely possibility for Macarthur's Viburnum sinense is Premna integrifolia L., synonym Viburnum chinense Hook. & Arn. which see.
Published Jul 09, 2009 - 03:37 PM | Last updated Jul 16, 2010 - 02:13 PM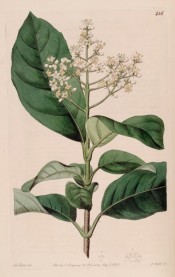 Family
Caprifoliaceae
Category
Region of origin

Northern and Eastern Asia

Synonyms
Common Name

China Laurestine

Name in the Camden Park Record

Viburnum odoratissimum

Viburnum sinense

Confidence level
high