Stanhopea tigrina Batem. ex Lindl.
Frost-tender, epiphytic, evergreen orchid with one oblong leaf appearing from the pseudobulbs, and pendant racemes of very large, fleshy yellow flowers, to 15cm across, blotched with dull purplish-brown, from summer to autumn. To 45cm. [RHSE, Hortus, Pridgeon].
Horticultural & Botanical History
Introduced to Britain from Mexico in 1836 by Low's of Clapton. [JD]. 'Perhaps no Orchideous plant is more calculated to attract attention than the present, whether we consider the large size of its blossoms, their strange form and almost waxy consistence, their singular markings, or the powerful fragrance they exhale, scenting the whole stove, and almost too strong to be agreeable; but which is considered to resemble a mixture of Melon and Vanilla. The species is now not uncommon in our collections, and is said to have been introduced to them by Messrs. Low, of Clapton, from Xalapa in Mexico. Like the other Stanhopeas it is easily cultivated, only requiring to be suspended from a beam of the stove in a wire basket filled with Sphagnum and other mosses, through which the flower-stalks penetrate downwards and hang below the basket, the pseudo-bulbs and leaves being seen above. During the present and for several months in the summer, our plants in the Royal Botanic Gardens flowered in the highest degree of perfection, and from one of them this representation was made. It is the best marked and most distinct of all the genus.' [BM t.4197/1845].
'If this plant is cultivated in a pot, it must be raised considerably above the level of the rim, not only to prevent its suffering from too much water, but also that its flower, which is pendulous, may be seen with advantage. The best method is to hang it up in a basket. The soil should be the same for this as for other orchidaceous plants, but when put into a basket it is found useful to place a little moss (sphagnum) round the soil; this keeps it moist, and the roots seem to thrive in it. The only other circumstance necessary to be noticed is, that it must be kept perfectly dry when not in a growing state; it will be found to push much more vigorously when this is attended to.' [BR f.1/1839].
Johnson's Dictionary lists three varieties. Flore des Serres figures the variety superba [FS f.715/1851]. BF pl.69/1845.
History at Camden Park
Listed in the 1850 and 1857 catalogues [O.50/1850]. Obtained from Loddiges' nursery, brought out from England by Captain P. P. King in 1849. [ML A1980-3].
Notes
Published Jan 26, 2010 - 04:57 PM | Last updated Jan 26, 2010 - 05:01 PM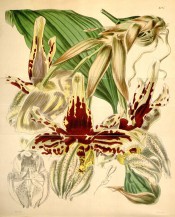 | | |
| --- | --- |
| Family | Orchidaceae |
| Category | |
| Region of origin | Mexico |
| Synonyms | |
| Common Name | |
| Name in the Camden Park Record | Stanhopea tigrina |
| Confidence level | high |