Sinningia speciosa 'Erecta Magnifica'
Probably a cultivar of Sinningia speciosa (Lodd.) Hiern. The erecta cultivars are similar to 'Fyfiana', which see. 'Erecta Magnifica' could well belong to this group. I have found no detailed description of this cultivar and the name magnifica gives no real clues.
Horticultural & Botanical History
Gloxinia erecta is the name given to an erect-flowered group of cultivars bred in Germany nine years after 'Fyfiana' was developed in Scotland, i.e. about 1853. [Gesneriad Register – Sinningia]. A number of cultivars are shown in the accompanying illustration, of unknown origin, but probably from a German publication.
History at Camden Park
Listed only in an appendix to the 1857 catalogue [A.60/1857].
Notes
Gloxinia x magnifica Hort. has rose-pink flowers, white deep in the throat, striped deeper rose. [BR f.48/1844]. This plant may be identical with Macarthur's erecta magnifica although this is unlikely as the flower shown is a slipper gloxinia. It appears to be identical to other Sinningia speciosa cultivars of the day with little or no evidence of the putative Sinningia guttata Lindl. male parent. See Siningia x Cartoni Hort. and Sinningia x insignis Hort. for Glendinning's explanation of the origin of these cultivars. Gloxinia x magnifica is illustrated at these entries.
Published Sep 08, 2009 - 04:44 PM | Last updated Aug 19, 2011 - 04:17 PM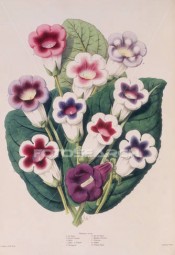 Family
Gesneriaceae
Category
Region of origin

Probably garden origin, Germany

Synonyms

Sinningia speciosa (Lodd.) Hiern convariety fyfiana var. erecta magnifica
Gloxinia speciosa 'Erecta Magnifica'

Common Name

Gloxinia

Name in the Camden Park Record

Gloxinia erecta magnifica

Confidence level
low