Sapindus drummondii Hook. & Arn.
Fully hardy, small deciduous tree with pinnate leaves, turning yellow in autumn, and dense conical panicles of cream flowers in early summer, followed by spherical, orange-yellow fruit. To 15m. [RHSE, Hortus, Hilliers'].
Horticultural & Botanical History
'Sapindus marginatus grows along the Atlantic coast from the valley of the Savannah River in Georgia to that of the St. John's River in Florida; and on the west coast of Florida from Cedar Keys to the Manatee River. It reappears west of the Mississippi River and extends from western Louisiana to the valley of the Washita River in southern Arkansas and to southern Kansas, through Texas to the mountain valleys of southern New Mexico and southern Arizona, and into northern Mexico. On the Atlantic coast it is a small tree, rarely exceeding twenty feet in height, and is not common; it is most abundant and reaches its greatest size along the river bottoms of eastern Texas, where it grows in company with the White Elm, the Texas Elm, the Honey Locust, and the Hackberry, or often occupies considerable areas to the exclusion of other trees. It prefers moist clay soil, although it sometimes grows on dry limestone uplands.
The wood of Sapindus marginatus is heavy, strong, and close-grained, with several rows of large open ducts clearly marking the layers of annual growth, and thin obscure medullary rays. It is light brown tinged with yellow, with lighter colored sapwood composed of about thirty layers of annual growth. The specific gravity of the absolutely dry wood is 0.8126, a cubic foot weighing 50.64 pounds. It splits easily into thin strips, and is largely employed in Texas in the manufacture of baskets used in harvesting cotton, and in New Mexico for the frames of pack-saddles. The fruit is eaten in Texas by cattle and deer.
Sapindus marginatus was discovered by the French botanist Michaux on the coast of Georgia, and was first described by Lamarck, who confounded it with the West Indian S. Saponaria. It is now occasionally cultivated in the gardens of southern Europe and in Algeria.' [Sargent – The Silva of North America vol.7, p.71, tab.LXXVI/1892 as Sapindus marginatus].
Sapindus marginatus was introduced to Britain in 1697. The fruits of Sapindus sps. have been used for a number of purposes, from soap substitute for washing clothes, to coat buttons. [Don].
History at Camden Park
First listed in the 1850 catalogue [T.922/1850] although a plant was presented to the Sydney Botanic Gardens by William Macarthur on 27th September 1847. [RBGS AB].
Notes
Published Mar 19, 2009 - 03:59 PM | Last updated Jul 31, 2010 - 03:19 PM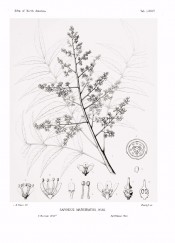 Family
Sapindaceae
Category
Region of origin

Southern USA to Mexico

Synonyms

Sapindus marginatus Torr. & Gray
Sapindus saponaria subsp. drummondii (Hook. & Arn.) E.Murray

Common Name

Soapberry

Name in the Camden Park Record

Sapindus marginatus

Confidence level
high