Salpiglossis sinuata Ruiz & Pav.
Half hardy, erect annual with slender, branching stems bearing alternate, long-stalked, lance-shaped, wavy-margined leaves and broadly funnel-shaped, 5-lobed flowers in a wide variety of colours, heavily veined in a deeper or contrasting colour, from summer to autumn. To 60cm. [RHSE, Hortus].
Horticultural & Botanical History
'[Salpiglossis picta is] a native of Chili, introduced about the year 1820. Its flowers are eminently beautiful, but it appears to be only an annual plant: however, its seeds are ripened in this country. They should be sown in spring, and the plants, after attaining a moderate growth, may be planted in a warm border, where they will flourish exceedingly, especially in a hot summer. The soil should be rich and light.' [LBC no.1652/1830]. 'This genus of very showy plants should be in every collection.' [PD]. Only one species is listed by Paxton's Dictionary and Don, Salpiglossis sinuata, introduced in 1824, with three varieties, Barclayana, striped brown and bright yellow, an English hybrid; picta, with variegated yellow and bluish-purple flowers; and straminea, described as red and white by Paxton's Dictionary and as having a cream corolla, veined with blue, by Don. Don also describes a hybrid, called by Sweet S. intermedia. Curtis's Botanical Magazine figures S. sinuata var. atropurpurea, the seeds sent from South America in 1826 as S. atropurpurea [BM t.2811/1828], and S. straminea var. picta. The latter had creamy-yellow flowers with distinctive purple-red stripes and is probably identical to the variety straminea described by Don. It was first raised by Mr. Neil near Edinburgh. [BM t.3365/1834].
History at Camden Park
The only reference to this plant is in a letter from Elizabeth Macarthur to her mother Elizabeth, referring to flowers growing in Edmund Blake's garden. Blake, a convict gardener, probably lived in the cottage at the edge of the garden now called Garden Cottage.
Notes
Published Oct 10, 2009 - 04:46 PM | Last updated Jul 31, 2010 - 04:28 PM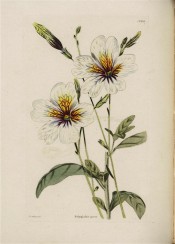 Family
Solanaceae
Category
Region of origin

Peru

Synonyms

Salpiglossis grandiflora Hort.
Salpiglossis straminea Hook.
Salpiglossis picta Sweet
Salpiglossis hybrida Hort. ex Vilm.
Salpiglossis variabilis Hort. ex Vilm.
Salpiglossis intermedia Sweet

Common Name

Scalloped tube tongue, Painted tongue, Salpiglossis

Name in the Camden Park Record

Salpiglossis

Confidence level
high