Salix triandra L.
A large shrub or small tree with flaky bark and glossy lance-shaped leaves. Long cultivated in Europe for basket making although not the most important species for this. See Salix viminalis L. [RHSD, Hortus, Hilliers'].
Horticultural & Botanical History
'The narrower-leaved Willows generally come under the denomination of Osiers, of which this [Salix triandra] is one of the most valuable. It is cultivated for white basket-work, producing rods 8 or 9 feet long, tough and pliant, even when stripped of their bark, and very durable. They are cut down every year.' [The English Flora vol.4, p.167/1828].
A number of varieties of Salix triandra are illustrated in English Botany, including genuina, figured here [English Botany vol.8, pl.MCCCXIII/1868]. Also figured in Saint-Hilaire Arb. pl.78/1824.
History at Camden Park
Listed only in the 1857 catalogue [T.919/1857]. If this is a correct identification Macarthur was probably interested in its value for basket weaving, still important in the early Victorian era.
Notes
While Salix triandra L. is the most likely identification but there is another possibility. Salix x smithiana Willd., synonym Salix lanceolata Fries, is a hybrid between Salix cinerea L. and Salix viminalis L., occurring naturally in Britain and forming a large shrub or small tree. [RHSD, Hortus, Hilliers'].
Salix oleaefolia Vill., synonym Salix lanceolata Ser., is a European species and less likely.
Published Mar 26, 2010 - 04:59 PM | Last updated Mar 26, 2010 - 05:07 PM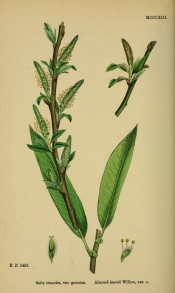 Family
Salicaceae
Category
Region of origin

Europe

Synonyms

Salix amygdalina L.
Salix lanceolata Sm.
Salix undulata Ehrh.

Common Name

Almond-leaved willow

Name in the Camden Park Record

Salix lanceolata

Confidence level
medium