Rosa sulphurea Ait. & Lindl.
The 'Double Yellow' rose produces a moderately thorny shrub, eight or nine feet high with large, very full, globular and regular flowers of pure yellow. The flowers require excellent growing conditions to open fully. [Gore, Paul (1848, 1863, 1888, 1903), Rivers (1854, 1857, 1863), Willmot].
Horticultural & Botanical History
Grown in European gardens since at least the 1600s, it is believed to be of Persian origin. It was probably first described by Parkinson in the English literature. It was figured in the Botanical Register as Rosa sulphurea. [BR f.46/1815]. There is also a dwarf form known as 'Pompone Jaune', 'Dwarf double Yellow' or Rosa sulphurea minor.
History at Camden Park
Arrived from Veitch's Nursery, Chelsea on Dec, 31st, 1859 on board the 'Hollinside' but dead on arrival. For more detail see Rosa 'Ducher'.
Notes
Published Feb 12, 2010 - 05:24 PM | Last updated Jul 27, 2011 - 10:30 AM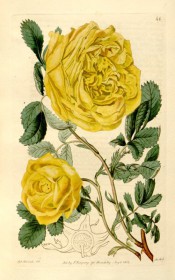 Family
Rosaceae
Category
Region of origin

Probably western Asia

Synonyms

Rosa hemisphaerica Herm.
Rosa flava pleni flore Hort.
Double Yellow
Yellow Provence

Common Name
Name in the Camden Park Record

Double Yellow

Confidence level
high