Rosa rugosa Thunb.
Catherine Gore lists Rosa Ferox, the rose figured by Lawrence. It has large, single red flowers.
Horticultural & Botanical History
According to Gore it is closely allied to Rosa rugosa and Rosa kamschatica. Lindley also described this rose in the Botanical Register. 'In the preceding article (Rosa kamchatica) we have noticed the chief circumstances which distinguish that from the present very distinct species. That they are most decidedly different, must be evident to any one who is acquainted with them in a living state; and on this account we are the less able to imagine what can have induced M. Thory to pronounce them the same. Native of Mount Caucasus, and introduced in 1796 by Messrs. Lee and Kennedy, of the Hammersmith nursery.' [BR f.420/1819].
The plant described by Lindley, Lawrence and Catherine Gore as Rosa ferox is Rosa rugosa Thunb. Thomas Rivers Jnr., writing in the Floricultural Cabinet described Rosa ferox as a Perpetual or Autumn rose, its flowers a 'purplish deep rose, globular, large and very double.' [FC p.241/1835]. He is almost certainly describing Rosa rugosa Thunb.
History at Camden Park
Listed in the 1845, 1850 and 1857 catalogues [T.863/1845]. Two plants were presented to the Sydney Botanic Garden by William Macarthur on November 1st 1847 [RBGS AB].
Notes
Rosa ferox was used for at least three distinct roses in the early to mid 19th century. There is insufficient information to determine which is the rose imported by Macarthur.
Another possibility is Rosa ferox M.Bieb., Crimean sweet briar, Crimea. Willmot described this rose as a dwarf rose with compact, habit, small leaflets and single white flowers.
Perhaps less likely is Rosa 'La Ferocé', synonym Ferox, probably of garden origin. William Paul, in the first edition of The Rose Garden (1848), described a Damask rose called 'Ferox' or 'La Ferocé, with medium sized, cupped white flowers tinted with rose. He also listed an Alba rose called 'Ferox', with 'flowers white, habit curious.'
Published Feb 10, 2010 - 09:25 PM | Last updated Feb 10, 2010 - 09:31 PM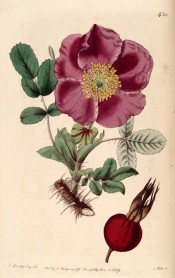 Family
Rosaceae
Category
Region of origin

Japan

Synonyms

Rosa ferox Lawrence
Hedgehog Rose
Porcupine Rose

Common Name
Name in the Camden Park Record

Rosa ferox

Confidence level
medium