Rosa majalis Lindl.
The pale or bright red flowers of the 'Cinnamon Rose' are solitary or 2-3 together and borne in the summer. Shrubby, it grows to 2m. [Gore, Willmot]. George Don reported in his General System of Gardening and Botany that double flowered varieties were more common in gardens.
Horticultural & Botanical History
In the early- to mid-19th century Rosa majalis was usually regarded as a separate species from Rosa cinnamonea, with solitary pale red flowers. Introduced into cultivation in the 17th century or earlier. Saint-Hilaire Tr. pl.153/1825.
History at Camden Park
Listed in all published catalogues [T.873/1843]. In the 1843 catalogue Rosa cinnamomea is described as rose de meaux. As Rosa rose de meaux is the next entry in subsequent editions this is certainly an error but probably indicates that it was grown in 1843. Rosa cinnamonea was the last rose listed in the 1843 catalogue, but was followed by the words 'with many others.'
Notes
Rosa cinnamomea of Redouté (c.1817) = Rosa rubrifolia Villars.
Rosa cinnamomea Herrm. = Rosa alpina L.
Rosa cinnamomea Kar. & Kir. ex Desegl. (1874) = Rosa dissimilis Desegl.
Rosa cinnamomea Roth (1788) = Rosa eglanteria L.
Published Feb 11, 2010 - 12:04 PM | Last updated Feb 11, 2010 - 12:09 PM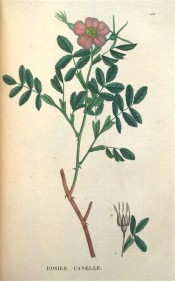 Family
Rosaceae
Category
Region of origin

Northern Europe including parts of England.

Synonyms

Rosa cinnamonea L.
Cinnamon Rose

Common Name
Name in the Camden Park Record

Rosa cinnamomea

Confidence level
high