Rosa gallica L.
Rosa gallica 'Officinalis' is a spreading shrub with large, highly scented, semi-double red flowers in summer, fading to a purplish colour. It has characteristic rough, finely-toothed leaves, bending down from the midrib, characteristic of the whole Gallica group. [Gore, Paul (1888), Rivers (1854)].
Horticultural & Botanical History
It is probable that the rose grown by Macarthur was an improved garden form, of which there were thousands by the 1820s. Rivers informs us that the famed Loddiges' Nursery of London grew 2000 sorts of Rosa gallica: 'The names were pleasing to the ear, but the eye searched in vain for distinct characters in the flowers.' The Botanical Register figured the old variety 'Tuscany' in 1820. [BR f.448/1820]. Willmot provides interesting information on the history of modern roses, including of course the very popular Rosa gallica: 'Descemet of St. Denis seems to have been the first Frenchman who went seriously into the raising of Roses, although others were working in the same direction. His seedlings, amounting to some 10,000, were in danger of being destroyed by the second entry of the Allies into Paris in 1815. The whole collection of little plants was transplanted by Vibert to his own nursery at Chenevières-sur-Marne, and the greater part survived. An immense impetus was thus given to Rose-raising in France about this time, and great emulation was aroused among the growers, among whom were Vibert, Laffay, Prévost, Desportes, Hardy, etc.' Saint-Hilaire Tr. pl.142/1825.
History at Camden Park
Listed in all published catalogues [T.855/1843], this rose was described as Provence rose in the 1843 and 1845 catalogues. This is an important note as it provides a number of clues to the identity of the six roses given the specific name gallica in the catalogues. With the possible exception of the species rose described here, the Rosa gallica varieties listed in the catalogues appear to be either Moss or Cabbage roses. In the 1845 catalogue Rosa gallica Boula de Nanteuil was listed after Rosa gallica, although in brackets.
Notes
In early literature 'Provins' is sometimes confused with 'Provence', which is another name for Rosa centifolia, the old Cabbage Rose. A number of varieties are listed in the Hortus.
Published Feb 10, 2010 - 08:53 PM | Last updated Feb 10, 2010 - 09:00 PM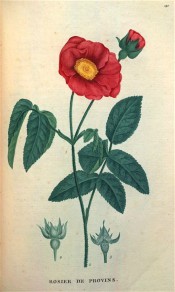 Family
Rosaceae
Category
Region of origin

Europe

Synonyms

Officinalis
Rose of Provins
Old rose of Lancaster
The Apothecary's rose

Common Name
Name in the Camden Park Record

Rosa gallica

Confidence level
high