Ribes grossularia L.
Deciduous spiny shrub with bristly shoots and lobed leaves, the greenish flowers born singly or in twos and threes, followed by round to ovate edible green fruits, sometimes bristly. To 1m or so. [RHSD, Hortus].
Horticultural & Botanical History
An ancient garden plant. 'The Gooseberry occurs wild in various parts of Europe, including Britain, where it is widely distributed though perhaps truly wild only in the north. It has been cultivated here certainly since the time of Henry VIII and is more popular in this country than in any more southerly land.' [RHSD].
'Flowers were not the only garden plants which roused the competitive spirit. Fruit and vegetables were cultivated for show throughout the nineteenth century, and the edible plant which roused the keenest rivalry was the gooseberry. Great was the gooseberry's girth and its weight was splendid.' […] The shows were well organised, with presidents, stewards, secretaries and judges, and were accompanied by singing, solemn measuring and weighing, and, of course, refreshments and prizes; there were competitions between parishes as well as individuals, and prizes for maiden (first-time) growers, as well as veterans. […] The berries were of four colours, red, yellow, green and white, and of the wining varieties recorded throughout the nineteenth century, a few names occur again and again: Sportsman, Crown Bob, Huntsman, Yaxley Hero, Foxhunter, Wonderful, London, Ringer, Garibaldi, Leveller among others.' [Scott-James p.88/1981].
The illustration used here is from Pomona Britannica and shows 16 varieties of show gooseberry, together with a much smaller, green, garden variety. [PB pl.6/1812].
History at Camden Park
Three varieties of dessert gooseberry, as opposed to show gooseberry, are mentioned in the Camden Park garden records, one described as 'large, smooth, green', and the varieties 'Ironmonger' and 'Yellow Champagne'. These are described in separate entries. As with other fruits, alternative names for these varieties appear under Synonyms rather than Common Names.
Notes
Published Apr 25, 2010 - 02:14 PM | Last updated Apr 25, 2010 - 02:21 PM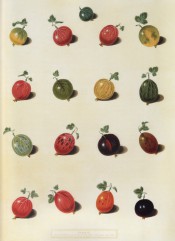 | | |
| --- | --- |
| Family | Grossulariaceae |
| Category | |
| Region of origin | Europe, including England, to North Africa and south west Asia, mountainous areas |
| Synonyms | |
| Common Name | Gooseberry, Groseiller |
| Name in the Camden Park Record | Gooseberry |
| Confidence level | high |