Rhodomyrtus tomentosa (Ait.) Harsk.
Tender, downy, evergreen shrub or small tree with opposite, oval leaves and axillary, solitary or 2-3 clustered rose-coloured flowers, to 3cm wide, followed by purple fruit. [RHSD, Hortus].
Horticultural & Botanical History
'In the third edition of the Species Plant. of Linnaeus, published in 1764, thirteen Myrtles are described; in the 13th edition of the Syst. Natur. published by Gmelin in 91, forty-one are enumerated; thus in twenty-seven years this genus has gained an accession of twenty-eight species: most of these are natives of warm climates, and few comparatively have been introduced to this country, six species only being mentioned in the Hort. Kew. of Mr. Aiton, in that work the tomentosa here figured, not known to Linnaeus or Miller is specifically described, and there Mr. Aiton informs us that it is a native of China, and was introduced by Mrs. Norman about the year 1766. Since that period it has fallen into the hands of various cultivators, and flowered perhaps in greater perfection than it did originally at Kew; the peduncles, in the various specimens we have seen usually supporting more than one flower. It is a shrub of great beauty, both in respect to its foliage and flowers, bearing but little similitude to the common Myrtle, if suffered to grow, acquiring the height of many feet. Its blossoms are produced in June and July, the buds are covered with a white down, as is also the underside of the leaves, whence its name of tomentosa. It has been customary to treat it as a stove plant, such it is considered in the Hort. Kew. there is great reason however to believe, that it is by no means tender, and that it may succeed as most of the Chinese plants do in a good greenhouse. It is usually increased by cuttings which are struck with difficulty.' [BM 250/1794].
History at Camden Park
Myrtus tomentosa was part of a consignment of plants sent from Kew Gardens by John Bidwill in November 1843 [AJCP]. It is likely that the plants were sent to Camden but there is no record of it growing in the gardens.
Notes
Published Jan 18, 2010 - 03:28 PM | Last updated Jan 18, 2010 - 03:35 PM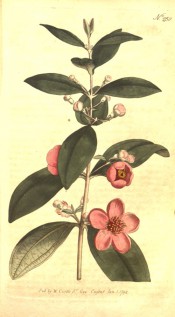 | | |
| --- | --- |
| Family | Myrtaceae |
| Category | |
| Region of origin | Tropical Asia |
| Synonyms | |
| Common Name | Downy myrtle |
| Name in the Camden Park Record | Myrtus tomentosa |
| Confidence level | high |