Rhinacanthus nasutus (L.) Kuntze
Straggling shrub with oblong leaves and axillary panicles of downy white flowers. [RHSD].
Horticultural & Botanical History
First described by Linnaeus as Justicia nasuta in 1753 [Sp. Pl. vol.1, p.16/1753]. It was placed in Rhinacanthus as Rhinacanthus communis by Nees in 1832 [Wallich vol.3, p.109/1832]. Kuntze proposed the combination Rhinacanthus nasutus in 1891, the name by which it is correctly known today [Kuntze vol 2, p.494/1891].
Introduced to Britain in 1790 as Justicia nasuta and in 1800 as Justicia gendarussa. [PD]. 'This species of Justicia [Justicia nasuta], long since figured in the Hortus Malabaricus, and described in the Species Plantarum of Linnaeus, has been introduced to the Royal Garden at Kew, since the publication of the Hortus Kewensis, by Mr. Aiton: it is a stove plant, producing, almost the year through, abundance of flowers, distinguished not less for their singularity than their snowy whiteness. […] In the Hort. Malab. the bruised leaves are described as in use for the cure of cutaneous eruptions.' [BM t.325/1796].
History at Camden Park
Listed only in the 1850 and 1857 catalogues as Justicia salicina [T.611/1850]. Obtained from Loddiges' Nursery, brought out from England by Captain P. P. King. [ML A1980-3]. It was also requested of Kew Gardens in a letter dated 1st February, 1849 [MP A2933-1, p.177].
Notes
This identification is doubtful. There is an unclear relationship between Jacobinia sericea of Nees, (see Justicia sericea Ruiz & Pav.) and Justicia salicina of Jacquin and of Vahl. The Prodromus systemis naturalis regni vegetabilis of de Candolle [Prod. DC. vol.11, p.332/1847] clearly states that Jacobinia sericea Nees, which see, is synonymous with Justicia salicina Vahl. from south east Asia, a plant now considered synonymous with Rhinacanthus nasutus (L) Kuntze. For this reason both plants are described in the Hortus.
Published Feb 22, 2010 - 03:24 PM | Last updated May 01, 2011 - 02:58 PM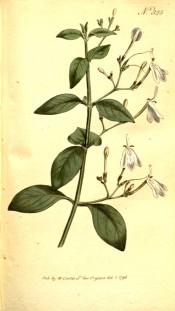 Family
Acanthaceae
Category
Region of origin

India and Malaya

Synonyms

Rhinacanthus communis Nees
Rhinacanthus osmospermus Bojer ex Nees
Justicia salicina Vahl ex Nees
Justicia gendarussa Macrae ex Nees
Justicia nasuta L.
Justicia rottleriana Wall.
Justicia dichotoma Rottler
Justicia macilenta E.Mey.
Justicia sylvatica Vahl
Dianthera paniculata Lour.
Ecbolium dichotomum (Blume) Kuntze
Pseuderanthemum connatum Lindau

Common Name

Ringworm Root

Name in the Camden Park Record

Justicia salicina

Confidence level
low