Pyrus communis 'Marie Louise'
'Fruit long ovate, something like a Saint Germain, but more angular in its outline, about three inches and a quarter long, and two inches and a half in diameter. Eye open, placed in an oblique, somewhat knobby hollow. Stalk one inch and a half long, obliquely inserted in a small uneven cavity. Skin greenish, but when fully matured of a rich yellow, clouded with light brown russet on the sunny side. Flesh inclining to yellow, perfectly melting, with abundance of saccharine, highly vinous juice. Ripe the beginning and middle of October.' [George Lindley – Orchard Guide p.378/1831].
Horticultural & Botanical History
'The first information of the existence of this Pear, was obtained from a box of fruit sent to the Horticultural Society, in November 1816, by Dr. Van Mons, of Brussels, by whom it had been raised. Since that period the variety has been very extensively cultivated; and the high opinion that was entertained of its good qualities when it first arrived, has been amply confirmed by experience.
It has been found one of the most valuable of our Autumn Pears, bearing equally well on a standard and a wall, resisting the inclemency of such a climate as even that of Norfolk, and appearing capable of affording a certain crop, under whatever circumstances it may be placed. In flavour and beauty it has scarcely a superior. In the unfavourable season of 1829, while even the Achan Pear, which the Scotch consider one of the best adapted to their northern situation, acquired no flavour as a standard near London, the Marie Louise gained its usual size, colour, and flavour.
There can be scarcely any doubt that the Pear mentioned in Mr. Loudon's useful Gardener's Magazine, vol. iii. p. 353, under the name of the Forme de Marie Louise, is the same as this; the appearance of the fruit from standards and walls being so different, as to justify any person unacquainted with the habits of the present variety in considering them distinct. It ought to be in every collection, however limited or select; and it is perfectly invaluable to those who have not walls for Pears. Ripens in the middle of October, and keeps till the end of November.' [PM t.122/1830].
George Lindley provides more information on its origins. 'This most excellent Pear, in favourable seasons, attains a much larger size, being sometimes five inches long and three inches broad. It was raised by the Abbé Duquesne, and sent by Dr. Van Mons, of Brussels, to the Horticultural Society in 1816. It bears well as a standard.' [George Lindley – Orchard guide p.378/1831].
John Lindley commented: 'In flavour and beauty it has scarcely a superior.' Considered by some authors the standard of perfection in autumn pears. [Gard. Chron. 1846, 1854].
The 'Horticultural Society of NSW' distinguished two varieties of Marie Louise, considering 'Marie Louise Delcourt' to be a distinct variety. This may be a reference to the differences between wall-grown and standard trees alluded to by the Pomological Magazine.
'Marie Louise: colour brown and yellow; form oblong; size above medium, often large; quality first rate; tree hardy, and bears abundantly. In use in February and March. This variety is readily distinguished from the next by its crooked and declining branches with narrow leaves.'
'Marie Louise (Delcourt): colour yellow-brownish red on the side next the sun; form pyriform; size above medium; quality second-rate; tree erect, with strong dark-coloured shoots; apt to produce more fruit that it can bring to full maturity. In use in February and March.' [NSW Hort. Mag. vol.1 p79/1864].
History at Camden Park
Listed in all published catalogues as 'Maria Louisa' [Pear no.1/1843]. '1. March-May. Large, melting, juicy, tender, buttery sweet but not so rich as some. Uncertain bearer.' [Diary B, MP A2951/1862].
Notes
Published May 17, 2010 - 02:22 PM | Last updated Jul 22, 2011 - 04:52 PM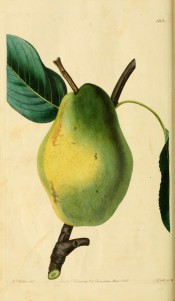 Family
Rosaceae
Category
Region of origin

Garden origin, Belgium

Synonyms

Marie Louise Delcourt
Marie Louise Nova
Forme de Marie Louise
Marie Louise Chrétienne
Princesse de Parme
Braddick's Field Standard
Donckelaar

Common Name

Dessert Pear, autumn

Name in the Camden Park Record

Maria Louisa

Confidence level
high