Pyrus communis Catillac'
'Fruit very large, of a broad turbinate figure, somewhat in the shape of a Quince; usually about three inches and a half or four inches deep, and the same in diameter. Eye small, with a short neat calyx, placed in a deep and wide plaited hollow. Stalk an inch long, stout, curved, and a little obliquely inserted in a very small cavity. Skin yellow, and when well matured in a warm season, of a deep orange, with a red tinge on the sunny side. Flesh hard, with an austere juice. In use from December till April.' [George Lindley – Orchard Guide p.412/1831].
Horticultural & Botanical History
'This old French baking pear with over sixty synonyms is supposed to have been found near Cadillac in the Gironde. Bonnefond in 1665 in the Jardinier Francois first described it under this name. The great size of the Catillac has often caused it to be confused with the Pound pear, and the latter's name has been applied as a synonym for the Catillac, but the two are distinct.' [Pears of New York p.330]. This pear may actually be even older than the 17th century.
'It is considered by confectioners as the best pear for stewing, preserving and wet sweetmeats.' [HP pl.XV/1878]. It is beautifully illustrated in Pomona Austriaca [Pomona Austriaca t.162/1792], the illustration used here. It is also figured in Le Jardin Fruitier du Muséum [JFM vol. 4/1861], Pomona Britannica [PB pl.LXXXVI/1812] and in Saint-Hilaire [pl.121/1829].
'Colour brownish-yellow and red; form turbinate; size large; much esteemed for culinary purposes. In use from April to July.' [NHM vol.1 p79/1864].
History at Camden Park
Listed in the 1850 and 1857 catalogues [Pear no.16/1850]. '16. May. Good only for stewing but of equal value to No. 13 [Uvedale's St. Germain].' [Diary B, MP A2951/1862].
Notes
Published May 18, 2010 - 03:17 PM | Last updated Jul 23, 2011 - 05:18 PM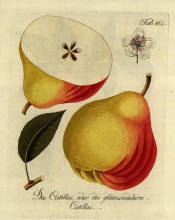 Family
Rosaceae
Category
Region of origin

Garden origin, France

Synonyms

Cadillac
Quenillas
Chartreuse
Admirable de Chartreux
Bon Chretien d'Amiens
Monstreuse de Landes
Grand Monarque
Gratiole Rond
Tête du Chat
Gros Gilot
Belle Pear
Pound Pear
and many others

Common Name

Culinary Pear, winter to spring

Name in the Camden Park Record

Catillac

Confidence level
high