Pyrus communis 'Black Worcester'
'Fruit very large, of a roundish turbinate figure usually about four inches long, and three inches and a half in diameter. Eye small, placed in a wide and deep hollow. Stalk half an inch long, stout, inserted in a slight cavity. Skin rough, of an obscure red or brown colour on the sunny side, but more pale on the shaded part. Flesh very hard, course, of an austere taste, but very good when baked or stewed. In use from November till February.' [George Lindley – Orchard Guide p.413/1831].
Horticultural & Botanical History
An ancient pear, said to predate Elizabeth I. The Herefordshire Pomona commented: 'The pear tree is so characteristic of the County of Worcester that Drayton in his poetical marshalling of the troops of Henry V at the Battle of Agincourt thus describes the standard of the Worcestershire men:-"Worcester, a pear tree, laden with its fruit."' [HP].
'The Romans cultivated a Pound Pear during the first century of the Christian era. In 1652 Claude Mollet describes a Pound Pear. Several subsequent writers describe the same pear as Livre, De Livre, or Poire de Livre. In Worcester, Eng., in the sixteenth century a pear known as Black Worcester, Black Pear of Worcester, or Parkinson's Warden came under general cultivation as a "Warden" or baking pear of which it forms the type. These two pears appear to be identical. Mas makes Black Worcester a synonym of De Livre, Hogg states that they very much resemble each other, the authors of Guide Pratique de l'Amateur de Fruits list them as synonymous, and Bunyard says that he believes that they are almost certainly identical. Black Worcester is retained as the name of the variety because it is now most commonly used.' [Pears of New York p.310].
'Pound Pear' is figured as in The Pears of New York [Pears of New York p.208] but this may be 'Uvedale's St. Germain'. This illustration is used here.
History at Camden Park
Listed in the 1845, 1850 and 1857 catalogues [Pear no.14/1845]. '14. Very like no. 13 [Uvedale's St. Germain]'. [Diary B, MP A2951/1862]. See also 'Uvedale's St. Germain' and 'Catillac'.
Notes
Published May 17, 2010 - 05:07 PM | Last updated Jul 22, 2011 - 03:05 PM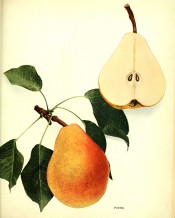 Family
Rosaceae
Category
Region of origin

Garden origin, unknown, possibly Italy

Synonyms

Pound Pear
Parkinson's Warden
Livre
Gros Rateau Gris
Grand Monarque
Groote Mogol

Common Name

Culinary Pear, late autumn to winter

Name in the Camden Park Record

Pound Pear

Confidence level
medium