Pyrus communis 'Beurré Rance'
'Fruit about the same size as that of the Saint Germain, and not much unlike it in shape; oblong, and tapering to the stalk; about three inches and a half long, and three inches in diameter. Eye small, open with a very short calyx, scarcely or but very slightly sunk. Stalk one inch and a half long, rather slender, inserted without any cavity; in some specimens it is diagonally inserted under a broad elongated lip. Skin dark green at all times, even when most ripe, sprinkled with many russetty specks. Flesh greenish white, melting, rather gritty at the core, but of a delicious rich flavour. The fruit generally shrivels in ripening. In eating from December till March or April.' [George Lindley – Orchard Guide p.409/1831].
Horticultural & Botanical History
'Described by Dr. Van Mons as being the best of the late Pears, keeping from December to May. This is, perhaps, to ascribe too high a character to the variety, which is, however, undoubtedly of rare excellence, not only on account of its flavour, but also of the capability it possesses of keeping sound and in perfection till a late period of the spring. It was raised at Mons by the late M. Hardenpont, by whom a number of other good Flemish Pears were obtained from seed some years ago.' [PM t.88/1829].
It was found growing at Rance, in Hainault, in 1762, by M. Hardenpont of Mons. [HP pl.LXVIII/1878]. Also figured in Le Jardin Fruitier du Muséum [JFM, vol.3/1860].
History at Camden Park
Listed in the 1850 and 1857 catalogues [Pear no.27/1850]. '27. Same as No. 59 Glout Morceau.' [Diary B, MP A2951/1862]. It is unclear which of the two pears is correctly named, if either. For this reason both are retained in the Hortus with a 'low' confidence rating.
Notes
Published May 19, 2010 - 10:12 AM | Last updated Jul 22, 2011 - 02:11 PM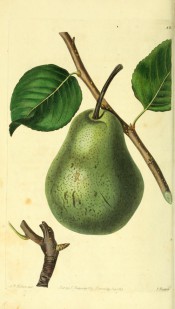 Family
Rosaceae
Category
Region of origin

Garden origin, Belgium

Synonyms

Beurré de Flandres
Hardenpont du Printemps
Beurré de Rans
Beurré de Rhin
Bon Chrétien de Rans
Beurré de Noir Chair
Beurré d'Hiver
Beurré Epine

Common Name

Dessert Pear, winter to spring

Name in the Camden Park Record

Beurré rance

Confidence level
low