Pyrus communis 'Beurré Clairgeau'
'Fruit large, curved-pyriform. Skin smooth and shining, of a fine lemon-yellow colour, and with a tinge of orange-red on the side next the sun; it is thickly covered all over with large russety dots and patches of thin delicate russet, particularly round the stalk. Eye small and open, level with the surface. Stalk half an inch long, stout, and rather fleshy, with a swollen lip on one side of it. Flesh white, crisp or half-melting, coarse-grained, juicy, sweet, and slightly musky. A handsome and showy pear, ripe in November. Its appearance is its greatest recommendation.' [Hogg – Fruit Manual p.161/1860].
Horticultural & Botanical History
'The original tree of Beurré Clairgeau appears to have grown by chance about 1830 with Pierre Clairgeau, Nantes, France. M. Clairgeau's first account of it was given in 1848 when he exhibited fruit. The reputation of the variety seems to have been at once established, for J. de Jonghe and others combined and purchased the stock of about 300 trees grafted on quince. Together with the parent tree, these were the same year removed to Brussels, and in 1852 the pear was placed on the market. Thus it happened that a French pear was first distributed by Belgian growers. The variety was introduced in America about 1854.' [Pears of New York p.132].
'A very handsome, showy pear. It commands a good price in the market by its great beauty and size, but these are its chief recommendations.' [HP pl.XXXII/1878]. M. De Jonghe of Brussels, writing in The Gardeners Chronicle of November 1854, begged to differ on the quality of this pear, considering it to be very fine. He was supported by the Horticultural Society of the Seine, presenting it with first prize in 1851. [Gard. Chron. 1854, 1856]. Also figured in Le Jardin Fruitier du Muséum [JFM vol.5/1863].
History at Camden Park
Listed only in the 1857 catalogue in an Addendum as 'Beurré Clargeau' [Pear no.44/1857]. In a copy of the 1857 catalogue the number '44' is changed to '47' and this aligns with the diary numbering. '47. Large of superior excellence.' [Diary B, MP A2951/1862]. Obtained from Veitch's Nursery, probably the original Exeter premises and introduced by Macarthur soon after its appearance in the European markets.
Notes
Published May 19, 2010 - 04:45 PM | Last updated Jul 22, 2011 - 01:43 PM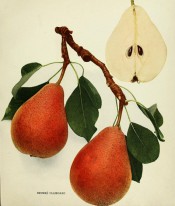 Family
Rosaceae
Category
Region of origin

Garden origin, France

Synonyms

Clairgeau
Clairgeau de Nantes
Clairgeau's Butterbirne

Common Name

Dessert Pear, autumn

Name in the Camden Park Record

Beurré Clairgeau

Confidence level
high