Pyrus communis 'Alexandre Bivort'
'Fruit rather below medium size, obovate. Skin shining, clear yellow, and covered with pale brown and green dots. Stalk woody, half an inch to three-quarters long. Flesh white, with a reddish tinge, buttery, melting, and very juicy, richly flavoured, and with a high aroma. A first-rate pear. Ripe in the end of December and continues till February. The tree has a bushy habit of growth.' [Hogg – Fruit Manual p.174/1830].
Horticultural & Botanical History
'Obtained in 1848 by Louis Berckmans and named after Alexandre Bivort, founder of the Society of Van Mons, in Belgium.' [Pears of New York p.240].
'A new hardy pear from the collection of the late M. Esperin.' [Rivers - Catalogue of Fruit for 1853 and 1854]. 'Alexandre Bivort' (Berckmans) is figured in Album de Pomologie [ADP vol.2, pl.107/1849], the illustration used here.
History at Camden Park
Listed only in the 1857 catalogue in an Addendum as 'Alexander' [Pear no.48/1850]. '48. Large, very perfumed [2 words undeciphered] flavour.' [Diary B, MP A2951/1862]. Obtained from Veitch's Nursery, probably the original Exeter premises.
Notes
The identity of this pear is not certain. There is an American Pear called simply 'Alexander' which 'originated at the village of Alexander, Genesee County, N. Y., from seed planted about 1820 by a Mrs. Churchill. It was shown at the Fruit Growers' Society Exhibition held at Buffalo, N. Y., on Sept. 13, 1855.' This pear is very unlikely to be Macarthur's pear. There are three other pears bearing the name 'Alexander' or 'Alexandre' which can be eliminated. 'Alexander Lucas' was found in a French forest in 1871; 'Alexandre Chomer' was introduced in 1887; 'Alexandre de la Herche' seems to be almost as recent although I have no exact date. Two other pears are possible candidates. 'Alexandre Lambré', a Van Mons seedling, first fruited in 1844; 'Alexandre de Russe' is a much older Belgian pear described by George Lindley in 1831.
Published May 20, 2010 - 02:45 PM | Last updated Jul 22, 2011 - 01:39 PM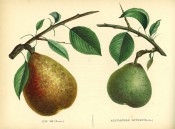 | | |
| --- | --- |
| Family | Rosaceae |
| Category | |
| Region of origin | Garden origin, Belgium |
| Synonyms | |
| Common Name | Dessert Pear, winter |
| Name in the Camden Park Record | Alexander |
| Confidence level | medium |