Psidium guajava L.
A very variable, tender, low tree with oval, elliptic leaves, hairy beneath, and white flowers followed by green to yellow, globose, edible fruit, to 20cm long, with white, yellow or pink flesh and a musky scent and flavour. [RHSD, Hortus].
Horticultural & Botanical History
The variety pyriferum, named for its pear-shaped fruit, is figured and described in the Botanical Register. 'Of all the fruit-bearing trees of tropical countries, the Guava most readily submits to the arts of the gardener. There are four eatable species in our hot-houses, namely, P. pyriferum, pomiferum, polycarpum, and Cattleianum; all of which repay the care of the cultivator with plentiful crops of fruit. [P. pomiferum is a variety of of Psidium guajava. P. polycarpum is probably a variety of Psidium cattleyanum but I cannot confirm this.]
Like the Apple and Pear of Northern nations, the Guava produces many varieties, differing in the form and quality of their fruit. That now figured is distinct from any previously published, being remarkable for the small size, round figure, and smooth surface of its fruit, which also possesses an unusual proportion of acid. Most commonly the fruit is larger, more oblong, and has an uneven coat, like that of an orange.
This species, however, is not that which we should recommend for cultivation; the best is the purple Guava, or Psidium Cattleianum; and next in excellence to that is the P. polycarpum; both which possess a very agreeable flavour, and bear in great profusion.
To taste the Guava in perfection, it should be gathered early in the morning, and a little before it is perfectly mature; it then possesses a sufficient proportion of acid to correct the terebinthinous flavour which at a later period predominates too much. Guava jelly is well known; and the fresh fruit, the small stony seeds having been separated, makes excellent tarts.' [BR f.1079/1827]. Psidium pomiferum was introduced from the West Indies in 1692 and Psidium pyriferum in 1656 [JD].
History at Camden Park
Guava 'Cattley's green' is listed in the 1850 and 1857 catalogues. There is doubt about this identification. Macarthur identifies it as a variety of Psidium cattleyanum with green fruit, but whether green skin or flesh is unclear. I have found no reference to a green-skinned Cattleya guava although the variety lucidum can have a greenish yellow skin. See also Psidium guajava L. and Psidium cattleyanum Wienw. var. lucidum.
Notes
A very vigorous plant and a noxious weed in some tropical regions.
Published Apr 27, 2010 - 04:29 PM | Last updated Apr 27, 2010 - 04:41 PM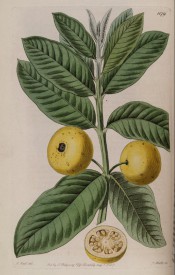 | | |
| --- | --- |
| Family | Myrtaceae |
| Category | |
| Region of origin | Mexico and the Caribbean |
| Synonyms | Myrtus guajava (L.) Kuntze |
| Common Name | Common guava, Apple guava |
| Name in the Camden Park Record | Guava (Cattley's green) |
| Confidence level | low |