Psidium cattleyanum Wienw.
Shrub with smooth, leathery, obovate leaves, to 8cm long, white flowers and deep red, round fruits, to 3cm long, with pale purple to white flesh, sweet, juicy, tasting somewhat of strawberries. To 6m. [RHSD, Hortus].
Horticultural & Botanical History
'The specimen of this fine fruit, from which our drawing was taken, was sent us by our lamented friend, the late John Walker, Esq. It was originally introduced into this country from China, about the year 1817, by Mr. Brookes, of the Ball's Pond nursery. The fruit is said to exceed in flavour that of any of the known species of Guava, several of which are cultivated both in the East and West Indies, and from one or more of these the well known Guava jelly is prepared. The first account we have of this handsome tree is from William Cattley, Esq. in the fourth volume of the Transactions of the Horticultural Society. In this gentleman's conservatory at Barnet two crops of fruit were produced from one tree in the same year; a fine figure of a fruit-bearing branch, from the pencil of Mr. Hooker, is added, and also some remarks by the Society's very zealous secretary, who applied the name of Cattleianum to it. An illustration of the botanical character of the genus, as well as of this particular species, may be seen in Lindley's Collectanea Botanica above quoted, together with a fine figure of a flowering branch and separate fruit. The flower is very little larger than that of the common broad-leaved myrtle, which it is not unlike. The fruit contains a juicy pulp, sweet, with some acidity. In the one we tasted, perhaps from being too ripe, we could not discover the delicious flavour described by Mr. Lindley. May be propagated by cuttings, and these, with good management, Mr. Cattley observes, may be brought into fruit the second year. It seems to be a fast grower, Mr. Cattley's plant, when purchased, being only twelve inches high, and, in two years, attained the height of three yards.' [BM t.2501/1824].
It seems strange that a tree of Brazilian origin should be imported from China but both the description and figure appear to be of Psidium cattleyanum. However, the figure used here, from the Botanical Register, which gives basically the same information as Curtis's Botanical Magazine, is rather more convincing and clearly of Psidium cattleyanum [BR f.622/1822]. But it seems that guavas from the Americas have been in China for a long time. 'It is significant also that Boym in his Flora Sinensis published in 1656 figures such characteristic American plants as the Pineapple (Ananas sativa Schult. f.), the Sweetsop or Custard Apple (Anona squamosa L.) and the Guava (Psidium guajava L.), which were evidently common plants in China when he was there (1642-53).' [Wilson & Rehder – A Monograph of Azaleas/1921].
History at Camden Park
Psidium cattleyanum is marked with a 'c' in an 1836 edition of Loddiges' catalogue held at Camden Park [CPA]. In William Macarthur's code, used and explained elsewhere, this means grown at Camden. It is also listed in all editions of the catalogues under Fruit as 'Guava (Cattley's purple)'. There are a number of mature specimens in the gardens today. It was received per 'Sovereign' on February 1831 [MP A2948]. This is the first record.
Guava 'Cattley's white' is also listed in all published catalogues and Guava 'Cattley's green' is listed in the 1850 and 1857 catalogues. See also Psidium cattleyanum Wienw. var. lucidum and Psidium guajava L.
Notes
Published Jan 18, 2010 - 03:35 PM | Last updated Apr 27, 2010 - 04:24 PM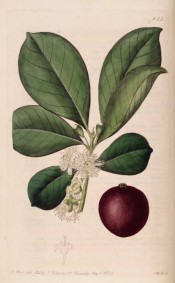 Family
Myrtaceae
Category
Region of origin

Brazil

Synonyms

Psidium humile Vell.
Guajava humilis Kuntze

Common Name

Purple guava, Strawberry guava

Name in the Camden Park Record

Psidium cattleyanum

Guava (Cattley's purple)

Confidence level
high