Pseudocydonia sinensis (Dum.-Cours.) Schneid.
Frost-hardy, spreading shrub or small tree, occasionally semi-evergreen, with peeling grey and white bark, oval, finely-toothed leaves, to 10cm long, and solitary, cup-shaped pink flowers in spring, followed by egg-shaped yellow fruits, to 15cm long. To 6m. [RHSE, Hortus, Hilliers'].
Horticultural & Botanical History
Introduced to Britain in 1818. [JD]. 'This quince was originally described and figured in black and white, by Thouin, from a tree in the Jardin des Plantes, Paris, and he states that it was introduced into England and Holland during the last decade of the eighteenth century. We find no confirmation of this statement, and Lindley seems to have been the first to publish an account of it in this country.' [BR f.1248/1829]. Subsequently another species was introduced from China, and it was for many years cultivated at Kew under the same name, the genuine plant having apparently disappeared from our gardens. The confusion of the two species extended to the literature of the subject, including the Enumeration of Chinese plants (Journ. Linn. Soc. Bot. vol. xxiii. p. 256), under Pyrus cathayensis, Hemsl., where, however, it is mentioned that the plant cultivated at Kew had much narrower, less hairy leaves than that originally described and cultivated in Europe. In 1899 the Director of Kew brought a ripe quince, of the species here figured, from the garden of Sir Thomas Hanbury, at La Mortola, near Ventimiglia, which led to further investigations, and the publication in Hooker's "Icones Plantarum" (tt. 2657 and 2658) of Cydonia cathayensis, Hemsl., as distinguished from C. sinensis, Thouin.' [BM t.7988/1904].
History at Camden Park
Listed in all published catalogues [T.790/1843]. Pyrus cydonia sinensis is marked with a 'c' in an 1836 edition of Loddiges' catalogue held at Camden Park [CPA]. In William Macarthur's code, used and explained elsewhere, this means grown at Camden. It is almost certain that it was grown in the gardens around this time. It is unclear if this plant is Pseudocydonia sinensis or an as yet unidentified form of Cydonia oblonga Mill. which see.
Notes
Pyrus chinensis Hort. ex Steud. (1821) = Pyrus communis L.
Published Feb 05, 2010 - 04:36 PM | Last updated Jul 30, 2010 - 05:31 PM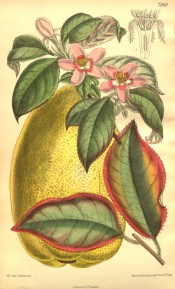 Family
Rosaceae
Category
Region of origin

China

Synonyms

Chaenomeles chinensis Koehne.
Pyrus chinensis Spreng.
Pyrus sinensis Poir.
Cydonia sinensis Thour.

Common Name

Chinese Quince, Chinese pear, Sandy pear, Snow pear

Name in the Camden Park Record

Pyrus chinensis

Confidence level
medium