Prunus persica (L.) Batsch.
Bushy, smooth-limbed, small tree or large shrub with lance-shaped leaves and solitary or paired rose-colored flowers, followed by edible round or oval fruits. To 8m. [RHSD, Hortus, Hilliers'].
Horticultural & Botanical History
'The peach originated from China. Its introduction westward was probably via the old Silk Road through Kashmir and Afghanistan to Persia, and was doubtless assisted by the comparative ease with which worthwhile trees could be grown from seed. From Persia, distribution gradually proceeded through the Middle East and thence into Europe. The nectarine is a smooth-skinned form of the peach; it is common in parts of Turkestan. Distribution of both peach and nectarine to other continents was gradually extended from Europe – by the Spaniards to Central America and thence to North America, by the British to Australia. There are comparatively few records from ancient times but the peach was certainly cultivated by at least 2000BC and is mentioned in the classical Greek and Latin texts.
There are numerous variations of the peach – cling-stone and free-stone; red skin to almost white; yellow, green-white and white flesh; round or flattened fruits and with or without a point or 'nipple' at the apex.
In Britain, as with a number of hardy fruits, it was the influence of Henry VIII that heralded the marked advance of interest in peaches and nectarines, together with importation of new cultivars from the near Continent. John Rea in 1676 listed 35 named cultivars of peach and 11 of nectarine and it was already recognised that wall culture was necessary for any consistent success in the British climate. During the 18th century even more new cultivars were introduced, still with strong Continental, particularly French influence and with special attention to fine flavour. The Horticultural Society at Chiswick listed over 200 peaches and 70 nectarines in its established collections. Furthermore, peach breeding was now being practised, first by Thomas Andrew Knight and subsequently and into the 20th century by the famous nurserymen Rivers and Laxton. This activity was primed by the advances within the gardens of the large estates, where not all wall culture but also cultivation under glass was now becoming standard practice. Equally, increasingly the fine quality and flavour were called for, resulting in the production of many new cultivars, a number of which are still in cultivation today.' [RHSD/1999].
The coloured figure used as illustration is from George Brookshaw's Pomona Britannica [PB pl.XXXII/1812]. Three peaches are illustrated, 'Marlborough', 'Rombullion', including a section, and 'Double Mountain'.
History at Camden Park
22 varieties of peach and nectarine are listed in William Macarthur's catalogues or gardening records, although some would today be recognised as being synonymous with each other. 6 of these fruits are Camden-bred, a very high proportion compared with other fruits. One of these, 'Camden Superb', was sent to England, to Loddiges' Nursery, with high expectations but I have no further information on its fate. [MP A2933-1, p.185]. As with other fruits alternative common names, of which there are sometimes many, are given under Synonyms. The Common Name section describes whether it is a peach or nectarine and gives the season of ripening.
Notes
Published Jun 03, 2010 - 01:23 PM | Last updated Jun 03, 2010 - 03:51 PM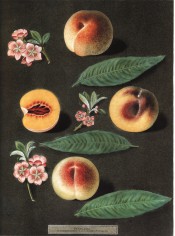 Family
Rosaceae
Category
Region of origin

China

Synonyms

Amygdalus persica L.
Persica vulgaris Mill.
Prunus persica var. vulgaris Maxim.

Common Name

Common Peach, Nectarine

Name in the Camden Park Record

Peach, Nectarine

Confidence level
high