Prunus domestica 'Yellow Gage'
A Prunus domestica L. cultivar. 'Fruit below medium size, round, and marked with a shallow suture. Skin greenish-yellow, thickly covered with white bloom. Stalk half an inch long, inserted in a pretty deep cavity. Flesh yellowish-white, firm, rather coarse-grained, but sweet and pleasantly flavoured, separating from the stone. Shoots smooth. A dessert plum of second-rate quality. Ripe in the beginning and middle of September.' [Hogg – Fruit Manual p.259/1860].
Horticultural & Botanical History
'Small Reine Claude, an old variety of unknown origin, is now probably obsolete. Thomas and Downing described it as an English Yellow Gage but it cannot be found that it is ever so called in Europe. Since the variety was known in France and Austria in the latter part of the Eighteenth Century it is quite certain that it originated on the continent. From its name and close resemblance to the Reine Claude it is safe to state that it is a seedling of that sort.' [Plums of New York p.347].
'Yellow Gage' may be the variety figured as 'Petite Reine Claude' by Saint-Hilaire' [pl.224/1830]. (See 'Reine Claude'). Pomona Britannica figures a plum called 'White Gage', which is also given as a synonym of 'Yellow Gage'. This is the illustration used here, but these plums appear quite different and I cannot accurately determine which was grown by Macarthur.
History at Camden Park
Listed in all published catalogues as 'Yellow gage' [Plum no.8/1843].
Notes
Published May 27, 2010 - 02:16 PM | Last updated Jul 21, 2011 - 05:35 PM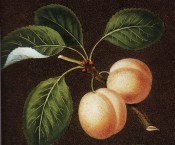 Family
Rosaceae
Category
Region of origin

Garden origin, unknown but probably Europe

Synonyms

English Yellow Gage
Small Reine Claude
Gonne's Green Gage
Utile Queen Claude
Heine Claude Petite
Petit Damas Vert
White Gage
and others, similar

Common Name

Dessert Plum, autumn

Name in the Camden Park Record

Yellow gage

Confidence level
medium