Prunus domestica 'Reine Claude de Bavay'
A Prunus domestica L. cultivar. 'Fruit large, roundish, and flattened at both ends. Skin greenish-yellow, mottled and streaked with green, and covered with a delicate white bloom. Stalk half an inch long, inserted in a small cavity. Flesh yellow, tender, melting, and very juicy, with a rich, sugary flavour, and separating from the stone. Shoots smooth. A first-rate dessert plum of exquisite flavour. Ripe in the end of September and beginning of October.' [Hogg – Fruit Manual p.252/1860].
Horticultural & Botanical History
'Bavay is one of the best of the green plums a worthy rival in all respects and in some superior to its parent Reine Claude. It is unexcelled as a dessert plum and its delicious flavor is retained in cooking, making the somewhat rare combination of a first rate dessert and a first rate culinary fruit. Bavay is not only satisfactory in the qualities which make it desirable to the consumer but it is a good market plum for it both keeps and ships well. The flavor is not quite equal to that of Reine Claude, one of the best of all plums in quality, but in tree-characters the Bavay surpasses the older variety. […]
This variety is a seedling of Reine Claude produced by Major Esperin of Malines, Belgium, about 1832, and dedicated by him in 1843, to M. De Bavay, Director of the Royal Nurseries, at Vilvordes, near Brussels. Though this variety is distinct from its parent in tree-characters, in having a later season, smaller fruit and a different flavor, the two plums have become confused by many nurserymen and horticulturists. In 1856, the American Pomological Society placed Bavay on its fruit catalog list where it still remains.' [Plums of New York p.155].
Le Jardin Fruitier du Muséum figured both 'Reine Claude de Bavray', with green skin, and 'Reine Claude Violette', which see, a variety with purple skin [JFM vol.4/1861].
History at Camden Park
Listed in Addenda to the 1857 catalogue as 'Reine Claude de Baray' [Plum no.25/1857].
Notes
Published May 27, 2010 - 05:04 PM | Last updated Jul 21, 2011 - 05:07 PM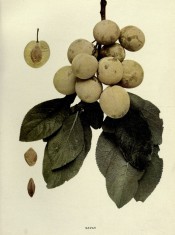 Family
Rosaceae
Category
Region of origin

Garden origin, Belgium

Synonyms

Monstrueuese de Bavay
Bavay's Green Gage
Queen Claude of Bavay
Saint Clair
and others

Common Name

Dessert Plum, Culinary Plum, autumn

Name in the Camden Park Record

Reine Claude de Baray

Confidence level
high