Prunus domestica 'Goliath'
A Prunus domestica L. cultivar. 'Branches resembling those of the Orleans, downy. Fruit pretty large, a little more long than broad, oblique at both extremities, and swelled more on one side of the suture than on the other. Stalk three quarters of an inch long. Skin pale red on the shaded side, but of a deep red or violet colour where exposed to the sun, and covered with a thin blue bloom. Flesh yellow, and slightly adhering to the stone. Juice similar to that of the Orleans. Ripe the beginning and middle of September. This is a very fine handsome Plum, a very great bearer, and deserving of cultivation.' [George Lindley – Orchard Guide p.450/1831].
Horticultural & Botanical History
'Nothing is known of the origin of this plum except that it is English. William Prince, in 1828, wrote: "This plum is of very large size, and has attracted much notice in England; but it is only recently introduced to this country, where it has not yet produced fruit that I am aware of." The Nectarine plum was confused with the Goliath in the early part of the Nineteenth Century, but Robert Thompson, the English horticulturist, separated them so satisfactorily that they have ever since remained distinct in plum literature. He found that this variety had pubescent shoots and fruit-stalks, while the same parts of the Nectarine were glabrous, and that the season of Goliath is considerably later. The American Pomological Society placed Goliath on its fruit list in 1862, but dropped it in 1871.' [Plums of New York p.231].
Figured in Pomona Londinensis as 'Nectarine Plum' [PL pl.39/1818]. We have the testimony of George Lindley that this is actually 'Goliath' and not the true, but very similar plum 'Nectarine' [George Lindley – Orchard Guide p.450/1831]. Hogg describes the difference between 'Goliath' and 'Nectarine': 'This [Goliath] is sometimes, but erroneously, called Nectarine Plum; but the young shoots of that are smooth, while those of Goliath are downy.' [Hogg – Fruit Manual/1884]. This description agrees with that of George Lindley but Pomona Londinensis does not comment on the shoots.
History at Camden Park
Listed in Addenda to the 1857 catalogue as 'Goliath' [Plum no.10/1857].
Notes
Published May 27, 2010 - 02:40 PM | Last updated Jul 21, 2011 - 05:30 PM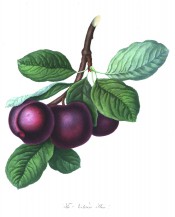 Family
Rosaceae
Category
Region of origin

Garden origin, England

Synonyms

Caledonian
Emperor
Steers' Emperor
Saint Cloud
Wilmot's Late Orleans
Nectarine Plum (of some)

Common Name

Dessert Plum, Culinary Plum, late summer, autumn

Name in the Camden Park Record

Goliath

Confidence level
high